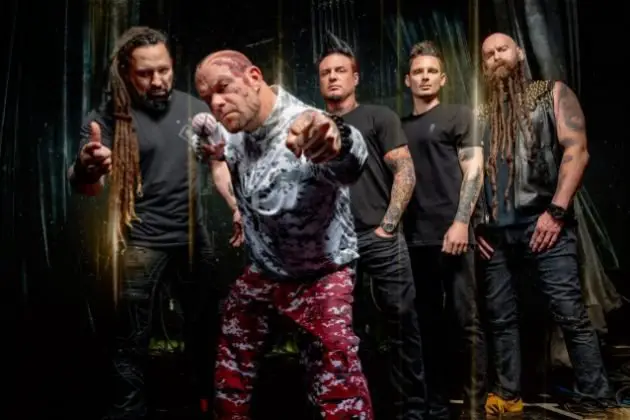 FIVE FINGER DEATH PUNCH will join forces with thrash metal legends MEGADETH and heavy metal supergroup BAD WOLVES.
More information with exact dates and cities will be revealed on September 9.
In a recent interview with Lazer 103.3, FIVE FINGER DEATH PUNCH bassist Chris Kael talked about the band's new drummer, Charlie "The Engine" Engen of SCALE THE SUMMIT, who recently replaced the group's longtime member Jeremy Spencer.
He said: "We had Jeremy for quite a while, and obviously, you're going to form a bond both musically and personally. Getting Charlie in here – he reminds me a lot of me when I first joined.
"Really excited, completely professional. He stays true to what Jeremy was playing but adds little small stuff that's his own thing. We're all locking in. I'm telling you, this dude is driven. He's going to be the best drummer in the world.
MEGADETH was forced to cancel all of their 2019 dates with the exception of Megacruise which is still going according to plan, due to frontman Dave Mustaine's cancer diagnoses.
In February, Mustaine talked about the new album with Kerrang.
"We're trying to keep with that real heavy thing." Dave said. Dystopia was more of us doing what makes us feel good; there's a lot of super-heavy, fast drumming at the end of some songs.
"My son was in here two days ago, and when we were doing Dystopia, he was listening to the songs and making comments, and the ones he commented on were the ones that got the best response. When he came over this time, we were working on a song that has the tentative title 'The Dogs Of Chernobyl', and the intro riff has kind of a Hungarian guitar part, kind of like something MERCYFUL FATE did on 'Into The Coven'. The song comes in super powerful and strong, and my son goes, 'Oh god, that's heavy as hell!' and I just started laughing."
MEGADETH's latest album, Dystopia opened with 48,000 copies, marking MEGADETH's highest-charting album since 1992's Countdown To Extinction debuted and peaked at No. 2 on the chart dated August 1 of that year. Dystopia also logs the group's best sales week since 2007, when United Abominations landed at No. 8 with first-week sales of 54,000.