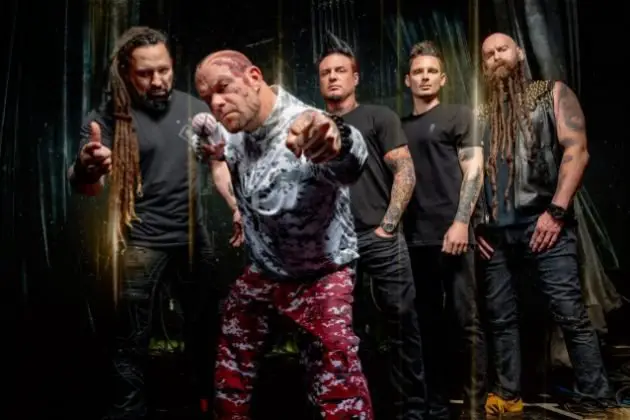 In a recent interview with Heavy 1, FIVE FINGER DEATH PUNCH bassist Chris Kael discussed the band's recent European tour with thrash metal legends MEGADETH support acts.
When asked how they ended up on road with MEGADETH, Kael replied: "Fate, perhaps, I don't know… I remember I was on vacation in the Philippines, on a break from the writing process for F8, and Zoltan [Bathory, guitar] had sent me a message.
"He's, like, 'Hey, wanna let you know that we're going out with MEGADETH in Europe,' to give me a heads up. I was, like, 'Oh, that'd be awesome, we're gonna be able to play and then come off and I'll be able to watch MEGADETH, the legends and just be able to hang out and enjoy…'
"He's, like, 'No, no, no. We're bringing MEGADETH with us on this tour,'" he continued. "I was, like, 'Are you kidding me…? MEGADETH ?! One of the Big Four is coming, and we're going on after them?' I was a little nervous, I ain't gonna lie. [Laughs] Those dudes, they're legends, but they're current as well, the last record, [2016's] Dystopia is one of my favorite things they've ever done.
"And to have the opportunity and the pressure of the world watching right now: 'Alright, you guys are gonna do that, it's really lit a fire under our collective rear ends,' and you really got to step up when you're going on after MEGADETH."
FIVE FINGER DEATH PUNCH released its latest album, F8, on February 28. The follow-up to 2018's And Justice For None caps a turbulent period for FIVE FINGER DEATH PUNCH in which Moody finally got sober after a near-fatal struggle with addiction, while co-founding drummer Jeremy Spencer bowed out of the band due to physical issues.
MEGADETH recently announced co-headlining tour with LAMB OF GOD – across North America this year. And to add to the firepower of this already formidable tour, TRIVIUM and IN FLAMES are joining, making this the must-see heavy music package of the year.
Tickets for the tour can be find at this location.