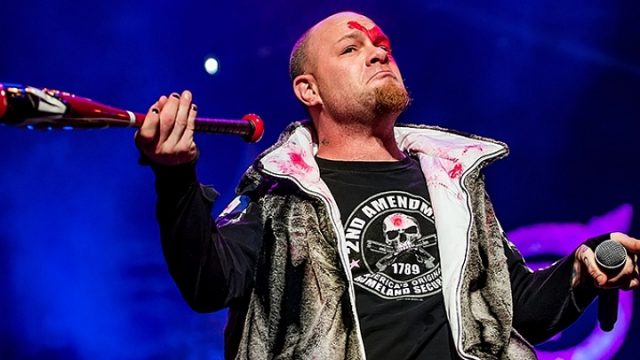 FIVE FINGER DEATH PUNCH has unveiled the new song "Sham Pain", off the band's upcoming seventh studio album, "And Justice For None". According to guitarist Zoltan Bathory, the track is "a lyrical snapshot of probably the biggest, yet most chaotic year of this band's career.
Everyone has a different way of dealing with the moments when life hands them lemons… some complain and some make lemonade," he said. "Us, we pour gasoline on it and then hit it with a rocket launcher. Sarcasm has always been our 'art of war' (if, from naming the band FIVE FINGER DEATH PUNCH, you haven't figured it out yet), but just wait until you see the video we made for this song."
"Sham Pain" sees FIVE FINGER DEATH PUNCH frontman Ivan Moody spitting out such lines as "my label tried to sue me, TMZ tried to screw me, Blabbermouth can f*cking suck it, 'cause they never f*cking knew me," a reference to a particularly event-filled 2016 during which the band was sued by its record label, Prospect Park, and a woman claiming to be Moody's wife accused the singer of infidelity and being violent during their relationship.
Check the song below.