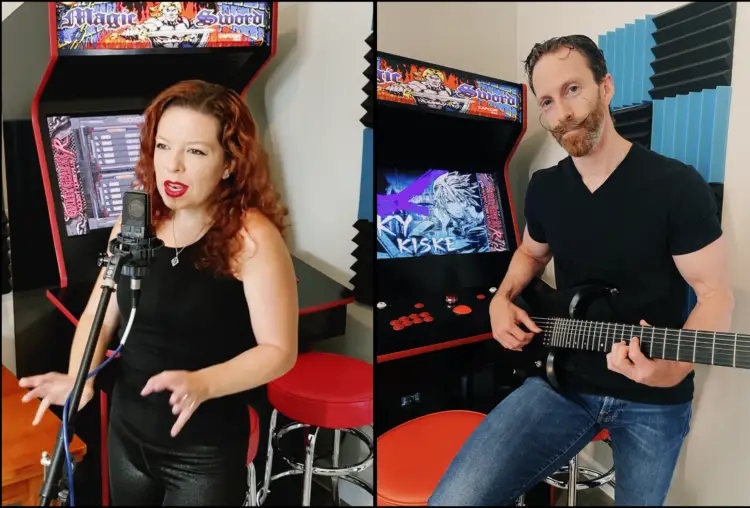 What is Flame Imperishable?
Flame Imperishable is the husband-and-wife duo of Jason Lee Greenberg and Jennifer Michelle Greenberg. Based out of Houston, Texas, their sound can best be described as power-prog metal, with a theatrical story-telling flair. With a soaring and layered female operatic delivery, Jennifer's voice has been compared to Kate Bush and Tori Amos. They draw much inspiration from the likes of Blind Guardian, Judicator, Falconer, Opeth, Nightwish, Epica, J.R.R. Tolkien's The Lord of the Rings and The Silmarillion, Brandon Sanderson's The Stormlight Archives series, and Nintendo music (Zelda: Breath of the Wild). Additional elements heard on the album include classical guitar, baritone saxophones, tasteful orchestral accompaniment by classical composer Gregg Rossetti, PHD, and even chip tunes meant to harken back to the 80s of vintage video games.
Quotes from Jason Lee Greenberg:
I'm always writing songs, so building out our own home studio made practical sense. Then, in 2020, during the first COVID lockdown, I posted on social media asking if anyone was interested in collaborating on a few songs. To my surprise, Gregg Rossetti, the main composer of one of my favorite bands, Suspyre, responded. Gregg has been amazing to work with. His expertise of composition, orchestration, and harmonization added a dimension to many of the songs that I just love.
In the time between our last album, Orisonata (almost 10 years ago!), I fully devoted myself to studying and pursuing classical guitar. In getting back to writing metal music, it was a blast incorporating newly learned classical composition techniques, approaches to counterpoint melody, as well as baroque and romantic styled themes into heavy metal.
Our sound is theatrical but I think also catchy. I draw on influences from fantasy power metal, progressive metal, death and black metal, and jazz and classical. I use those elements as building blocks to craft music that's complex, compelling, interesting, and fun to listen to. I'd like to think fans of Blind Guardian, Opeth, Epica, Nightwish, and Ghost will enjoy our new album.
There are no specific rules I lock myself into while writing a song. As a nerdy fan of fantasy literature and video games, those topics took center stage in our lyrics. We have songs inspired by Tolkien's The Silmarillion and The Hobbit; The Legend of Zelda, Breath of the Wild; Brandon Sanderson's The Way of Kings novel; as well as some completely original fantasy tales. In fact, Jennifer has written short stories to flesh out the backstory and lore behind a few of the songs, Frozen in Time and The Scarlet Gale.
Songs on the album are diverse yet maintain our hallmark sound. They include a ballad that contrasts nicely with our more driving and heavy songs. BPMs range from 90, 125, 145, 165, etc., so as you close out the final track, we hope you feel like you've been on an interesting journey, or just finished a really good book.
Guest Musicians:
Gregg Rossetti (Suspyre): Saxophone, Keyboards, Orchestrations, Bass Guitar (on Shrine of Resurrection)
Drew Creel (Masqued): Guitar solos on Reign of Fire and The Herald's Approach
John Yelland (Judicator, Dire Peril, Principium): Male Vocals on The Scarlet Gale Pt. 2 – The Descent
Valerie Hartzell: Classical guitar on The Scarlet Gale Pt. 3 – Reflection
Read our review here.