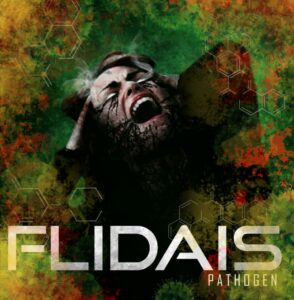 Having an instrumental track in each album was a non-written Metal music tradition. Every now and then we receive a band that honors this old time tradition. Flidais with "Pathogen" does it right in the beginning. Opening track "Incursion" does the honors. The track gives a good hint of the album will be in an instant. That is a great and neat instrumentals with an old timer vocal. By old timer I mean a clean voice that own some vocal range allowing it to really fly away as the great Metal voices used to do. Fun fact about "Pathogen" besides its tittle is that each track has a single word as a tittle. Giving a little thought about it after reading the press release I guess all tittles are related to "Pathogen" to some extent. Well, to be a concept albume explains this and much more. Other fun fact is that at first I thought the album was much simpler than it really is. Coming to think of it instrumentals here are pretty complex and intricate. Though all those the album has a certain rawness in it that I can't explain where it comes from. There's something off but I can't tell what it is. Maybe the vocals production because they are a bit louder than the instrumentals a common mixing mistake – Did I say mistake? Well, that is.
As I said before the instrumentals in the album call the eye particularly the guitars. I have to say that I was  distinctly attracted by the overtones which I guess come from Fender Stratocaster guitars. Just guessing because nowadays modern amps and things emulate any kind of guitars overtones. If memory serves me right, their overtones remind me Grave Digger's "Witch Hunter" era. My memory is something to be explained due to the correlations I make here as "Darkness," for instance, reminds me of Testament "The Ballad." It's so hard to explain a feeling. If I got the album's concept correct, the variations that to me sounded as if the tracks were recorded in different time and location make sense after reading – again – the press release. The tracks are here to tell a story and this story goes by certain moods. That's why they vary so much, am I correct?
Flidais "Pathogen" is another great album to start the year. Great to know that the spirit of Old School Heavy Metal is alive and well. I dare my dear child of the night to say that Covid 19 hadn't passed through the minds after reading this.
"Pathogen" was released on January 23rd.
Track Listing:
Incursion
Obsession
Virus
Outbreak
Darkness
Infection
Calamity
Eradication
Despair
Reprisal
Departure
Watch "Calamity" official music video here: