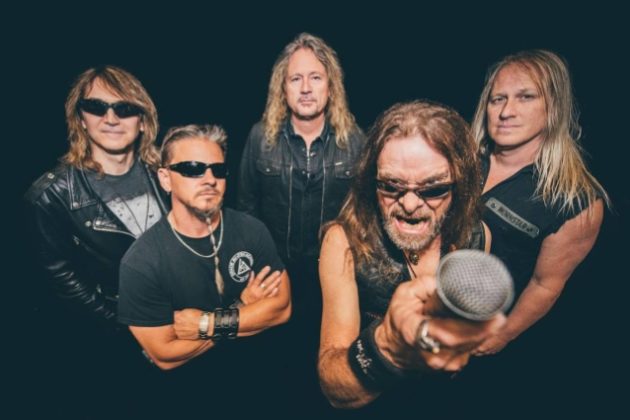 After a successful North American tour earlier this year in support of Sweden's HAMMERFALL, Arizona metal veterans FLOTSAM AND JETSAM will return to the road next spring for the "Tour Of Chaos 2019".
FLOTSAM AND JETSAM states: "We're excited to hit North America for a headlining tour next spring in support of our upcoming album release, 'The End Of Chaos'. We'll be following up our March 2019 European tour with OVERKILL and DESTRUCTION with this 34-show run throughout May/June 2019. Look for us to be playing music from the new album, as well as digging into our catalog to play FLOTSAM songs that haven't been in the set for a while, if ever, in our headline set. We're looking forward to bringing FLOTSAM AND JETSAM's metal to the masses once again!"
FLOTSAM AND JETSAM's 13th studio album, "The End Of Chaos", is scheduled for a November release via AFM Records.
Vocalist Eric "A.K." Knutson told Capital Chaos TV about the new disc: "There's 12 songs on the record. This was [whittling] down from 40-something songs these guys wrote for me to put lyrics on, and we had to quickly go through all of them and go, 'Which ones capture our attention the most?' Those are the ones we concentrated on. There was just great song after great song after great song coming to my house every other day, and I'm like, 'Wow, how am I going to keep up with this?' It worked out pretty good."
Added guitarist Michael Gilbert: "We used to have a certain template that we'd write. Now, we're writing more for this guy to sing a heavier, more memorable chorus for people. You're always learning as a songwriter, trying to achieve the perfect chorus that someone's going to remember after the song's over. If you've got that going, then you've [written] a successful song."
Continued Eric: "Things have evolved a little more catchy with our songwriting, but not really on purpose too much. It was just as we evolve and our tastes and our loves in music evolve, so does our writing. I really like the direction we're going now."
FLOTSAM AND JETSAM recently officially welcomed Ken Mary (ALICE COOPER, ACCEPT) as the band's permanent drummer. Mary began touring with the group last year after Jason Bittner was invited to join OVERKILL.
FLOTSAM AND JETSAM 2019 tour dates (venue details to be announced):
May 10 – Denver, CO
May 11 – Tulsa, OK
May 12 – Oklahoma City, OK
May 13 – New Orleans, LA
May 14 – Winter Park, FL
May 15 – Margate, FL
May 16 – Ocala, FL
May 17 – Durham, NC
May 18 – Covington, KY
May 19 – Halethorpe, MD
May 21 – Philadelphia, PA
May 22 – New York, NY
May 23 – Clifton, NJ
May 24 – Poughkeepsie, NY
May 25 – Quebec City, QUE
May 26 – Montreal, QUE
May 27 – Toronto, ONT
May 28 – Hartford, CT
May 30 – Westland, MI
May 31 – Louisville, KY
Jun. 01 – Joliet, IL
Jun. 02 – Milwaukee, WI
Jun. 03 – Minneapolis, MN
Jun. 04 – Merriam, KS
Jun. 05 – Colorado Springs, CO
Jun. 06 – Salt Lake City, UT
Jun. 08 – Vancouver, BC
Jun. 09 – Seattle, WA
Jun. 10 – Portland, OR
Jun. 11 – San Francisco, CA
Jun. 12 – Santa Ana, CA
Jun. 13 – West Hollywood, CA
Jun. 14 – San Diego, CA
Jun. 15 – Tempe, AZ