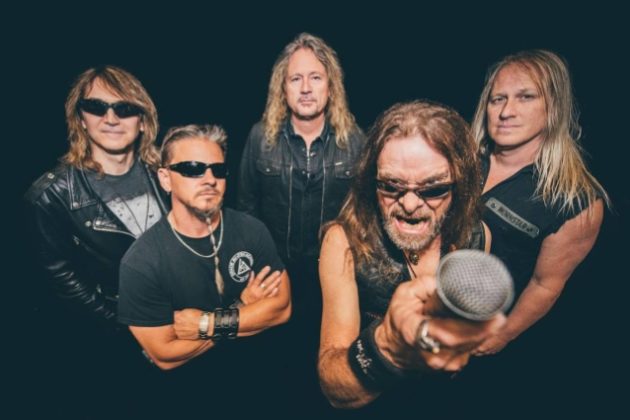 Arizona's  thrash legends FLOTSAM AND JETSAM have released a brand new song and official music video clip for the track "Burn The Sky", taken from their forthcoming album, Blood In The Water, which will be out on June 4, 2021 via AFM Records! You can watch the new video and enjoy the new song below.
FLOTSAM AND JETSAM belong to one of THE most distinctive and leading bands of their genre, influencing the heavy speed and thrash metal scene since decades. Following their crushing 2019- successor, The End Of Chaos, their new single "Burn The Sky" proves this album will, too. Featuring twelve brutal and powerful tracks that will rip your head off, the outstanding guitar work of Michael Gilbert and these killer vocals by Eric A.K. – without any doubt one of the best singers in metal –FLOTSAM AND JETSAM's Blood In The Water will see the band deliver one of their heaviest records to date!
Frontman Eric A.K. says: "While we were in the process of selecting which songs we would use for the album's videos, 'Burn The Sky' was the only one that was on everyone's lists consistently. This track has some guitar work by Mike and Steve that are second to none."
"We really had a hell of a time figuring out which songs actually include in this album, because we don't feel we have any fillers." Guitarist Michael Gilbert comments.
Evolving over the last albums to a much heavier sound of the band, he continues:"I don't want anyone feeling we are getting f**king old. As long as we continue doing this, we are gonna bring it. Our sound changed through the years influenced by many factors, but what you are listening to now is who we are and will continue to be."
Blood In The Water Tracklisting:
1. Blood In The Water
2. Burn The Sky
3. Brace For Impact
4. A Place To Die
5. The Walls
6. Cry For The Dead
7. The Wicked Hour
8. Too Many Lives
9. Grey Dragon
10. Reaggression
11. Undone
12. Seven Seconds 'Til The End Of The World