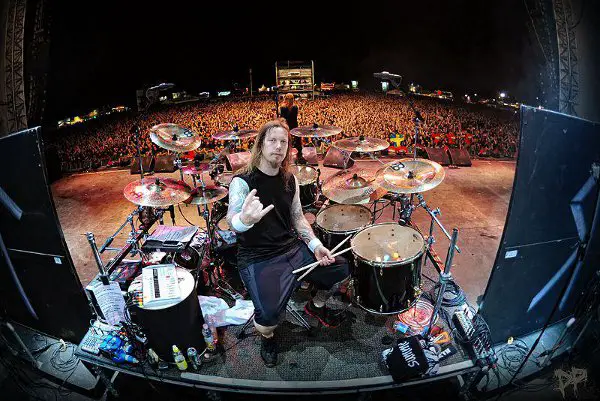 In a new interview with Australia's Wall Of Sound, drummer Fredrik Andersson called out AMON AMARTHsinger Johan Hegg for allegedly spreading "lies" about him in interviews and slammed his former bandmates for not giving him his "full share" when he was forced out of the group.
He said: "[Johan] did in Sweden Rock Magazine last year where he stated some lies about me and also basically said that I should be thankful that I was being paid as much as the other members when I was part of the band.
"Even though this was the deal we had, that everyone should get equal shares, but when I was fired, they backed away from that deal and said I shouldn't get my full share and I should be thankful what they had 'given' me throughout the years.
"As if the money I got was not for the work I put in. Also implying that my work was worth nothing, which is another backstabbing comment about me. They've sure made a few about me since I was fired. And my bitterness comes from that, not from not being in the band anymore."
"Getting kicked out from the band is the best that has happened to me even if I didn't think so at first. As a member, it was years of struggles for me — years where I felt I was never treated as an equal member. When I pointed it out, they only ridiculed me and said I was being silly.
"The irony is that now I'm proven right, they do not consider me an equal member, only now they say I never should've been either. That's what I'm bitter about."
Andersson was fired from AMON AMARTH in March 2015, just as the band was preparing to enter the studio to begin work on its Jomsviking album.