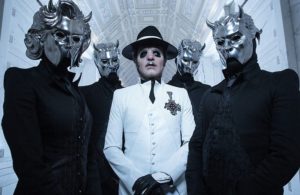 As reported by Blabbermouth, an appeals court has rejected the argument of former GHOST members that the judge who ordered the dismissal of their lawsuit against the band's leader, Tobias Forge, had a conflict of interest in overseeing the case.
Forge, who founded GHOST nine years ago, was sued by the four ex-members in April 2017. They accused the singer of cheating them out of their rightful share of the profits from the band's album releases and world tours.
The trial in Linköping District Court lasted for six days, and on October 17, 2018, a 108-page decision was released dismissing the case. The four former GHOST members were also ordered to pay Forge's legal fees, which could amount to approximately $146,000.
The musicians — Simon Söderberg (Alpha; member of GHOST from 2010 until 2016), Mauro Rubino (Air; member of GHOST from 2011 until 2016), Henrik Palm (Eather; member of GHOST from 2015 until 2016) and Martin Hjertstedt (Earth; member of GHOST from 2014 until 2016) — appealed the ruling, and their attorney, Michael Berg wrote in court documents that "it must have been almost impossible" for judge Henrik Ibold "to objectively and impartially assess the probative of the information that Tobias Forge has provided" since both Ibold and Forge are members of the Swedish Order Of Freemasons (Swedish: Svenska Frimurare Orden).
An appeals court has now determined that the plaintiffs had failed to demonstrate an actual conflict of interest. In the decision, the court wrote that in Sweden there is a constitutional freedom of association which means that all citizens — even judges — have the right to belong to organizations.
"The mere fact that a judge and a party in a case that the judge is presiding over are members of the Swedish Order Of Freemasons does not mean that the judge" is operating under a conflict of interest, said court president Charlotte Brokelind. However, the appeals court wrote in the decision that the judge should have informed the parties involved of his membership as soon as he became aware that Forge might also be a member. Having said that, "his failure to do so is not in itself sufficient to warrant a disqualification," the court wrote.
Söderberg, Rubino, Palm and Hjertstedt have reportedly spent more than 2.9 million kronor (approximately $320,000) in legal fees on the case so far.