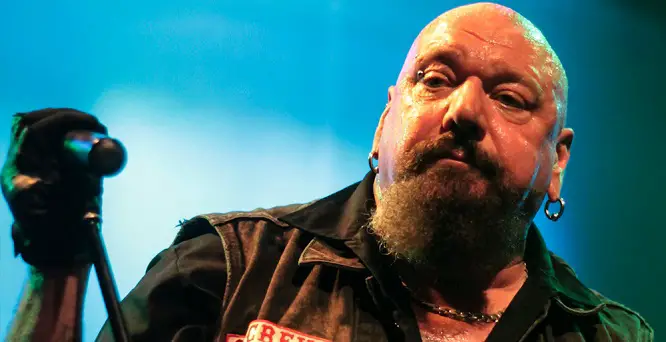 During a recent appearante on "Još Jedan" podcast, former IRON MAIDEN singer Paul Di'Anno, who has been receiving lymphatic drainage treatments in Zagreb, Croatia in preparation for his upcoming knee surgery, about his health condition, relationship with the fans, depression and how it affected his songwriting process.
Di'Anno also discussed his time in IRON MAIDEN, BATTLEZONE and ARCHITECTS OF CHAOZ, and his upcoming free concert in Zagreb, which will take place one day before IRON MAIDEN's show in Croatia in May.
Speaking about his health, Di'Anno said that he is doing "better" but noted that he still "a lot of work to do — a lot of physio and stuff like that."
"F*cking NHS (National Health Service) sucks. I was a defender of them big time. But the nurses are awesome and all the workers. It's the f*cking bureaucracy bullsh*t — the management and the people who run the NHS are just total a-sholes. But the poor heroes — the nurses and the staff — they're great, but their hands are tied. So they didn't know what to do. They just dumped me."
"I caught sepsis [when an infection you already have triggers a chain reaction throughout your body] in 2015, and it almost killed me," he continued. "And I spent eight months in a hospital in England. You've got a crucial 45 minutes to get as many antibiotics in you before you die, and they managed to do that, which was great. Then I spent eight months in a hospital, and then another three months in a care home. And while I was in there getting things done, on hospital visits, I caught MRSA [Methicillin-resistant Staphylococcus aureus, an infection caused by a type of staph bacteria that's become resistant to many of the antibiotics used to treat ordinary staph infections] there twice, in the hospital.
"So that was it. So it kept delaying things and delaying things… And then they took this knee out put this cement thing in. And it was only supposed to be in there for a year. And the first time they put that in, it broke, so they cut me open again and put another in. And that one is still in here. And while it's been in there this long, it's going toxic. So, what the f*ck are they doing over there at the NHS?"
"When I arrived here [in Croatia] at the clinic and they were looking me over, they found a f*cking staple in my leg which was in there from the operation from four years ago. What's going on?" he said. "There's gonna be a lawsuit, by the way. [Laughs]"