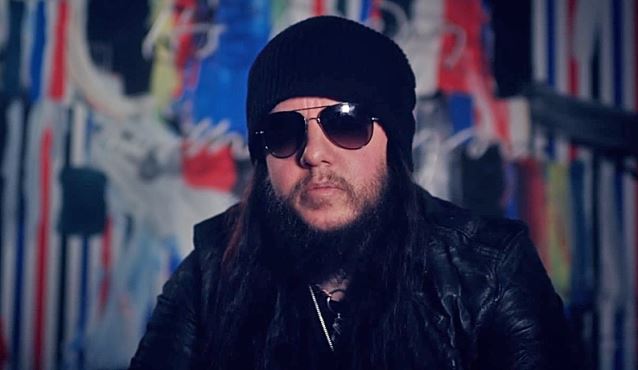 Former SLIPKNOT drummer Joey Jordison has revealed during his attendance at Metal Hammer Golden Gods Awards that he has been fighting transverse myelitis, an inflammatory disorder that temporarily prevented him of the ability to play drums.
While accepting the the Golden God award last night at Metal Hammer Golden Gods Awards event Jordison gave an emotional speech in which he spoke about his exit from SLIPKNOT for the first time. He said: "Towards end of my career in SLIPKNOT — and I want you all to give praise to them as well. We accomplished a lot in life, every one of them, and I wish them nothing but luck and the best of praises. Cause what we created in the basements of Des Moines, Iowa will never be matched. It's one thing that is fucking absolutely fucking unbeatable. I love those guys very much… Towards the end of my career in SLIPKNOT, I got really, really sick with a horrible disease called transverse myelitis. I lost my legs. I couldn't play anymore. It was a form of multiple sclerosis, which I don't wish on my worst enemy. I got myself back up, and I got myself in the gym, and I got myself back in fucking therapy to fucking beat this shit. And if I could do it, you could do it. It's the hardest thing I've ever done in my life, more than fucking anything."
He continued: "To people with multiple sclerosis, transverse myelitis, or anything like that, I am living proof that you can fucking beat that shit. And fucking metal and all of these fans will do it for you. This is the fucking world right here. You can beat this shit; no joke. Just the fact that metal lives in your heart, you can fucking accomplish anything."
Although, there still has been no confirmation if this condition is what led to SLIPKNOT and Jordison parting ways.