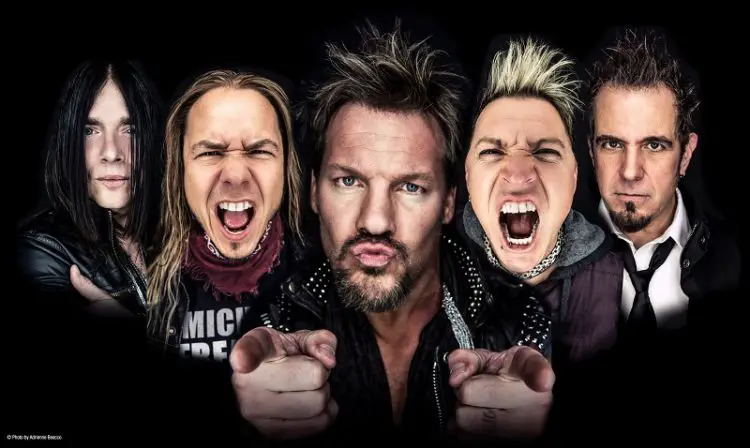 In a new interview with Rockwell Anderson, FOZZY singer Chris Jericho has dismissed the notion that rock is dead, saying that "rock and roll's exactly where it's always been."
Addressing the whole "rock is dead" debate, Jericho said (see video below): "It's not dead. Rock and roll's exactly where it's always been, which is kind of under the surface. I mean, you go back to the '80s or the '90s, rock bands were always big, and you get a few like, like METALLICA or GUNS N' ROSES or NIRVANA, that break out, but most of the time, most of the bands I listened to were never mainstream. 
IRON MAIDEN's still not mainstream and still does twenty thousand people a night. So it's not dead. Rock radio is not dead. Rock radio is still very influential. We know it, because the last record, our 'Judas' record, we had three Top 10 singles and it took us to a completely different level. I didn't realize that before the album came out. I just thought, 'Rock radio — who listens to rock radio?' But a lot of people do.
"People still like to rock, man," he continued. "And no matter how big rap gets, or pop music, you're always gonna have that, that people still wanna rock. And that's a cool thing now, with all these bands up and coming, 'cause sooner or later, there won't be an AC/DC or a GUNS N' ROSES or a METALLICA or an IRON MAIDEN. Who's gonna take over? I know we're ready to do it."
Elaborating on his belief that FOZZY is capable of taking over from some of his musical heroes, Jericho said: "Like I said, people like to have fun. And when you go to a FOZZY show, we make sure you have fun. It's not a dirty word. Drink some beer. Chant 'FOZZY.' Show your boobs if you're a guy or a girl — we don't care. Just have fun. And all the bands I love have that vibe.
"KISS is done after this [last] tour," he added. "THE [ROLLING] STONES, we don't know how much longer they're gonna be rocking. But we are more than ready, willing and able to continue the vibe of what we're talking about, which is just enjoying yourself and being happy to be alive."