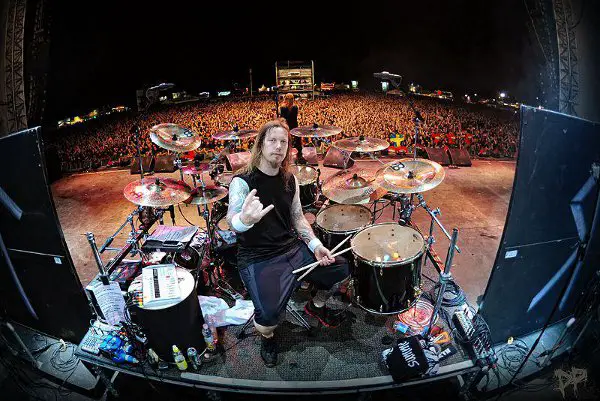 In a new interview with Greece's The Gallery, drummer Fredrik Andersson once again addressed his 2015 split with AMON AMARTH.
"There had been some friction between me and the other members for quite some time," he said. "It seemed to me like they were ganging up on me, even if they never really truly let me in to be 'one of them,' not even in the early years. But at least back then we could hang out together and we called each other friends.
"In later years, and I can only guess, but perhaps they started to feel that since we were splitting all money equally, either I should be more grateful and do what they told me to or they simply started to think it was wrong that I should get equally paid. I don't know. But in the end, whatever I did or say — it was wrong."
"I specifically remember one of the last times I played in Greece. It was the last day of the tour, and we were flying home the next day," he continued. "While I was warming up for the show, Olli [Olavi Mikkonen, guitar] came up to me and said my snare hits were not consistent enough.
"He said I played too soft during soundcheck and too loud during the show, or more specifically, he said the individual hits were either low or loud. Since I know for a fact this is bullsh*t, I got really pissed off.
"I might not be the most technical drummer, but if something, at least I'm consistent," Fredrik added. "I thought it was really untactical to come with these complaints five minutes before show, and it ruined the whole show for me. And there were lots of other occasions like this where they would just say I'm wrong about something, that my opinion were wrong or simply silly. It got very frustrating, and it built up to really strong friction."
Andersson publicly first time spoke about his departure in June last year when he shared long statement explaining his departure from the group. That statement can be read here.