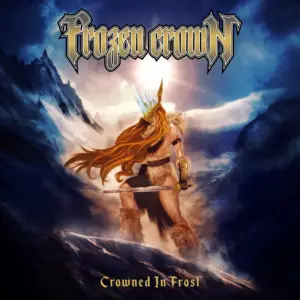 Ah, the safe and calm and far from surprises waters of Power Metal with its realms, kings, and princes and melodic songs. After some real challenging bands to review the time has come to some more common ground. Of course, it's no offense at all, we are metalheads, not poppers who think the wheel has to be reinvented every day. Frozen Crown with "Crowned in Frost" sail in the calm waters of a band that is mature enough to really know what they like and fight for their beliefs. "Crowned in Frost" has everything Power Metal universe has created in those thirty years of the power and the glory; the melodic high-pitched vocalist, extremely talented guitarists playing at the spped of light, anthemic songs with singalong chorused, and so on. I only miss the voluptuous princess here in my side… Well, nobody is perfect, not even Power Metal. And it doesn't work miracles…
Enough for the kidding. In fact, we have to agree that Power Metal is one of Metal sungenres that has changed the least for those thirty years or more. I have no problem with that indeed, but as a reviewer it is my duty to write something about it. Ah, but for our surprise, "Crowned in Frost" prepared a small surprise in "Winterfall" with a harsh and hard vocals in the beginning reminding the tough vocals of some Modern Metal efforts. But soon enough "Winterfall" goes back on track with a wonderful piano sequence in the middle. The harsh vocals comeback near to it. One can say everything he wants to but that Frozen Crown aren't loyal to their roots, no sir. I respect that a lot because that  kind of loyalty is the main drive to Metal lasting so long. Because bands refuse to change just because. Because bands are so in love with the music they do that they respect it enough to pervert it. It doesnt matter the kind of Metal the band play, the respect they have for Metal is bigger than anything. That's the main drive I see in "Crowned in Frost" and for sure the best feature in it.
Frozen Crown "Crowned in Frost" is a honest and as inspired as it can be album. I was going to say for fans only, but if you have faith in Metal you should listen to Frozen Crown with "Crowned in Frost." The true being in Metal is here. It can't get better.
Frozen Crown "Crowned in Frost" was released in April via Scarlet Records.
Track Listing:
Artic Gales
Neverending
In the Dark
Battles in the Night
Winterfall
Unspoken
Lost in Time
The Wolf and the Maiden
Forever
Enthroned
Crowned in Frost
Watch "Neverending" official video here: