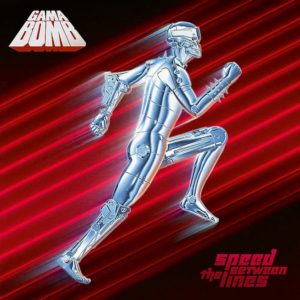 The comes and goes in music are really amazing. If we take a look a deep look into the european metal scene in the early 1980s, we'll notice that almost seven in ten bands played what was called Speed Metal. I said European because Speed Metal had different faces in other major Heavy Metal countries. And when I say European, I say Teutonic countries most notably. What was a huge blast, in a very short time disappeared. Speed Metal bands didn't last too long. They metamorphosed into thrash or extreme metal, they're natural evolution. But as nothing is eternal in life, except human stupidity, Speed Metal has made a comeback. Drawn by the same forces that brought alive 1980s Metal, it would be natural to have it back.
Gama Bomb with "Speed Between the Lines" have all the pros and cons of a regular Speed Metal band. As an exception, we can find in Gama Bomb lots of punk rock influences. Not on guitars though, but on vocals. That feature gives Gama Bomb a differential. Something to hold on to. It's also natural because some Speed Metal bands came from punk rock. Warfare are a very good example. From punk rock also come the uptempo cadences and the drums beats. The mix of punk vocals and Metal high pitches which also makes Gama Bomb a very interesting band.
As their peers, "Speed Between the Lines" is a very linear album. The kind where you won't notice plot twists or even tempo and cadence changes. It's the spirit of 1980s Speed Metal. Count 1-2-3 and go. Straight ahead to the bone for some skullcrushing tunes. "Speed Between the Lines" is an album that may attract extreme metal fans due to its drums pounding and high levels of aggression and adrenaline. Gama Bomb are made of them all.
Gama Bomb "Speed Between the Lines" was released on October 12th via AFM Records.
Track Listing:
Give Me Leather
A Hanging
666Teen
Bring out the Monster
RIP_U
Motorgeist
Alt Reich
Stay Rotten
We Are Going to Eat U
Kurt Russel
World Gone to Hell
Faceblaster
Watch "Bring out the Monster" official video here: