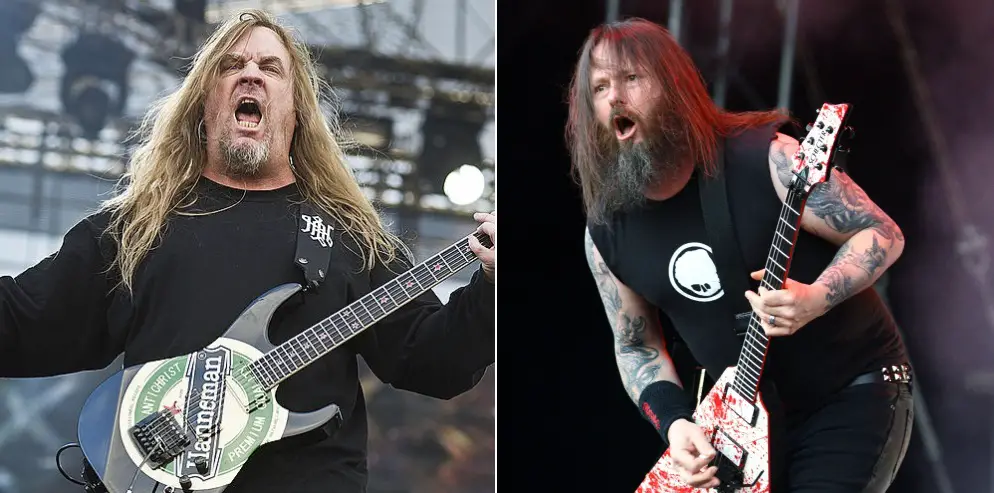 During a recent appearance on "Alive & Streaming" hosted by DEATH ANGEL's Ted Aguilar, EXODUS guitarist Gary Holt looked back on his nine-year tenure in SLAYER, filling in for the late Jeff Hanneman.
Holt was first in the band as a touring musician between 2011 and 2013; after Jeff's passing in 2013, he became a full member until SLAYER called it quits in 2019.
Asked if he knew all SLAYER songs before joining the band, Gary said: "No, I didn't know any of it; I knew maybe one SLAYER riff. No disrespect, but I wasn't one of those guys who knew all those songs by heart. I knew more of [the 1983 Slayer debut] Show no Mercy than any of the other stuff because back me and [the late EXODUS singer Paul] Baloff, we listened to that sh*t when it first came out.
"I didn't have that superfan knowledge of where all the changes go, where you can hum it before you can play it — I didn't know any of it, I had no idea," he continued. "And then I had to learn the SLAYER way of thinking; I'd learn a riff and then you realize there are five million more notes in there."
"The first time we jammed, we played 19 songs, I think. Anytime I got to learn a song, the first thing I do is I don't pick up a guitar, I just listen to it for like a couple of weeks so I know where all the changes are, and I know the song in the same way a fan would know a song. Not that I wasn't a fan, but you have to know all the parts; it doesn't do you any good to know a riff if you don't know where it goes."
When asked if it was a "culture shock having to come from EXODUS being your main band," Holt responded: "No, I liked it. There were way more guitar solos than I ever remembered in a SLAYER set, especially on Jeff's side of things. There were times I got to go in just kind of evolved into a role of a guitar hero — just go out, do my thing, shred.
"No one ever told me what to do, play like this or play like that, and it was fun, it was fun just to go out there and just shred balls every night and make up a different solo every night — sometimes for better, sometimes for worse."
Asked did he get a lot of flack from the fans when he came in SLAYER, he said: "I hadn't. Two real hecklers the whole time I was in SLAYER — and that's a pretty f*cking good ratio considering how many people played for how many shows. I had one guy, this guy in Germany with some bald skull, he was just flipping me off the whole show, and I went over to our production manager, 'Get that motherf*cker out of here,' and he bailed.
"I'm a thick-skinned guy, but — why did you even spend the money, motherf*cker? And then I had a show in Milan — and this was well into my time in SLAYER — and I had a guy front-row just talking sh*t to the point where he made me mad a little bit just because he was like right front-row. And at the end of the show, I've got this subwoofer right up to him and smiled at him like, 'We'll continue this conversation right now,' and he didn't have sh*t to say, because he got me mad, didn't hurt my feelings.
"But like, that said — bring us a little closer together and have a conversation, because he was aggressive about it, and I've been in the band for f*cking five years at this point, five-six years maybe, and the first one was on the first tour, and he wasn't near as bad," Gary added. "Maybe I had other people f*ck with me and I'd flip them back and at the end of the show — we're smiling, just kind of playing with each other."
When asked if he ever talked to Jeff during his time in SLAYER before he passed: "Yeah, he came down, he was at rehearsal once, I actually asked him a question about a lick, and he was cool as f*ck. We never really had a conversation about me doing it.
"But his memorial, they read a letter that [Jeff's widow] Kathryn had written — it was just too much, too raw, and she described when she told him that they were going to continue with somebody else, he was super bummed and he hung his head down and was kind of really disappointed and said, 'Who?' And they said, 'Gary Holt,' and then he smiled and said, 'F*ck yeah!'"
You can watch the full interview below.