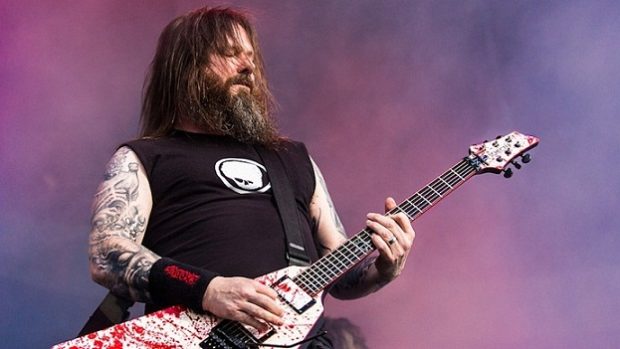 GARY HOLT was asked by Total Guitar to single out his favorite guitar solos from the SLAYER catalog, to which he replied: "I love the solo sections on 'Hell Awaits,' 'Fight Till Death,' 'The Antichrist.' 'Angel of Death' is one where I have lots of room to roam. Before I joined the band, I loved 'Spirit in Black,' that is a really good Jeff solo."
He added: "The solos that I love playing are more about what is going on behind it rather than anything that I'm doing. Live, if the band behind me is ripping then that is really inspiring.
"On things like 'Show No Mercy,' there is some melody going on so that gives me the opportunity to bring out some melodic stuff in the leads that I might not be able to do on something like 'Hell Awaits.'
"I get to stretch out, as long as it doesn't clash with what else is going on in the band."
Asked on how he recorded the solos on "Repentless," Gary replied: "I went in and did all of my solos in one day.
"I'm glad that I did because I blew out a tendon in my left wrist. It was hurting but I kept going for it and then the next day I couldn't even move my hand. I should have stopped when it started hurting and come in the next day.
"I did all the solos in one day but SLAYER solos are on the shorter side, usually. EXODUS songs are sometimes 11 minutes long and a good chunk of that could be solos.
"So it sounds like a lot doing all of the solos in a day but some were quite brief, just these spontaneous bursts."