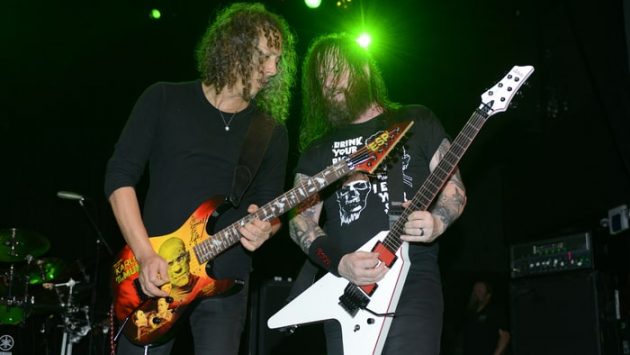 In a new interview with Metal Hammer magazine, EXODUS guitarist Gary Holt talked about Kirk Hammett using a riff from his time in EXODUS on METALLICA classic "Creeping Death."
The EXODUS track is titled "Die By His Hand" and was never officially released by the group.
"I recall calling Kirk up and giving him a great deal of grief. He said, 'Ah, I thought I asked you if it was OK.' I'm like, 'No, you didn't,'" Holt recalled. "So I've had the pleasure — and I use the term loosely — of watching 60,000 people chant 'Die by my hand!' at METALLICA shows, yet I've never received a penny for it."
During an interview with Metal Hammer earlier this year, Hammett looked back on joining the group in 1983 after leaving EXODUS.
Hammett reached the subject while discussing METALLICA's 1984 track "Trapped Under Ice," which uses riff Kirk originally wrote for EXODUS song "Impaler."
"They [the riffs] came from songs I had written, the music I had written. I consider them my parts," Kirk said. "I didn't feel guilty about that, but I did feel guilty about leaving the band I started in high school. I've known [EXODUS drummer] Tom Hunting since I was 16 years old, I've known [EXODUS guitarist] Gary Holt since I was 17. We're all close to this day, but there was a lot of guilt there for a while.
"A little bit of remorse," he added. "But I really felt that METALLICA was my calling. I felt more comfortable playing in METALLICA than I ever did in EXODUS, so go figure."