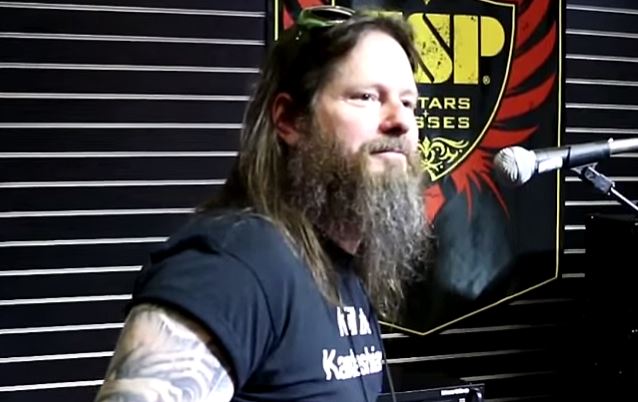 EXODUS' and SLAYER's guitarist Gary Holt stressed the importance of not discarding anyone's musical accomplishments based on their political stance, telling Full Metal Jackie (via Blabbermouth):
"Heavy metal – and thrash metal in particular – has long since been a political musical genre, I guess is the best way to say.

"We've all written songs about nuclear war and the threat of nuclear war and all this and that.

"And all of a sudden now, people are afraid to touch it, because the world is – music is completely polarized in opposite directions; it's so partisan.

"And I'm a liberal – everybody knows I'm a liberal, but I'm a liberal with really extreme right-wing views on certain things, like crime and punishment, and I support law enforcement and stuff like that. But people are so afraid to speak their opinion, 'cause people will swear off their allegiance to their favorite bands.

"Like, I think Ted Nugent is a total idiot. He's also one of my favorite guitar players of all time, and always will be.

"And anytime he says something stupid, it's never gonna make me go throw away my copy of 'Double Live Gonzo' – never! That's not why I love Ted Nugent – I love his guitar playing.
He continues:
"Nowadays, people are like, 'Oh, they were my favorite band. Now I disagree with them [politically]. I don't wanna listen to that band anymore.'

"It's a touchy subject nowadays, which really blows my mind that people are so sensitive."
If you haven't yet, check out why Gary Holt hates the Kardashians here.
EXODUS is about to go into the studio later this year to make a new album. About the new album, Holt commented:
"Yeah, that's what we are shooting on. Tom Hunting [EXODUS drummer] and I are of the same mindset — that however long it takes to make this album what we want it to be is how long it's gonna take. Prior to the South American SLAYER tour, I had six months off, so I really used that time wisely, just writing and jamming with Tom and putting stuff together.

We've got a few songs done, several in the works and thousands of riffs, it seems like. We're real excited with how things are coming along, so we're looking forward to getting to that point, when we can actually start booking studio time."