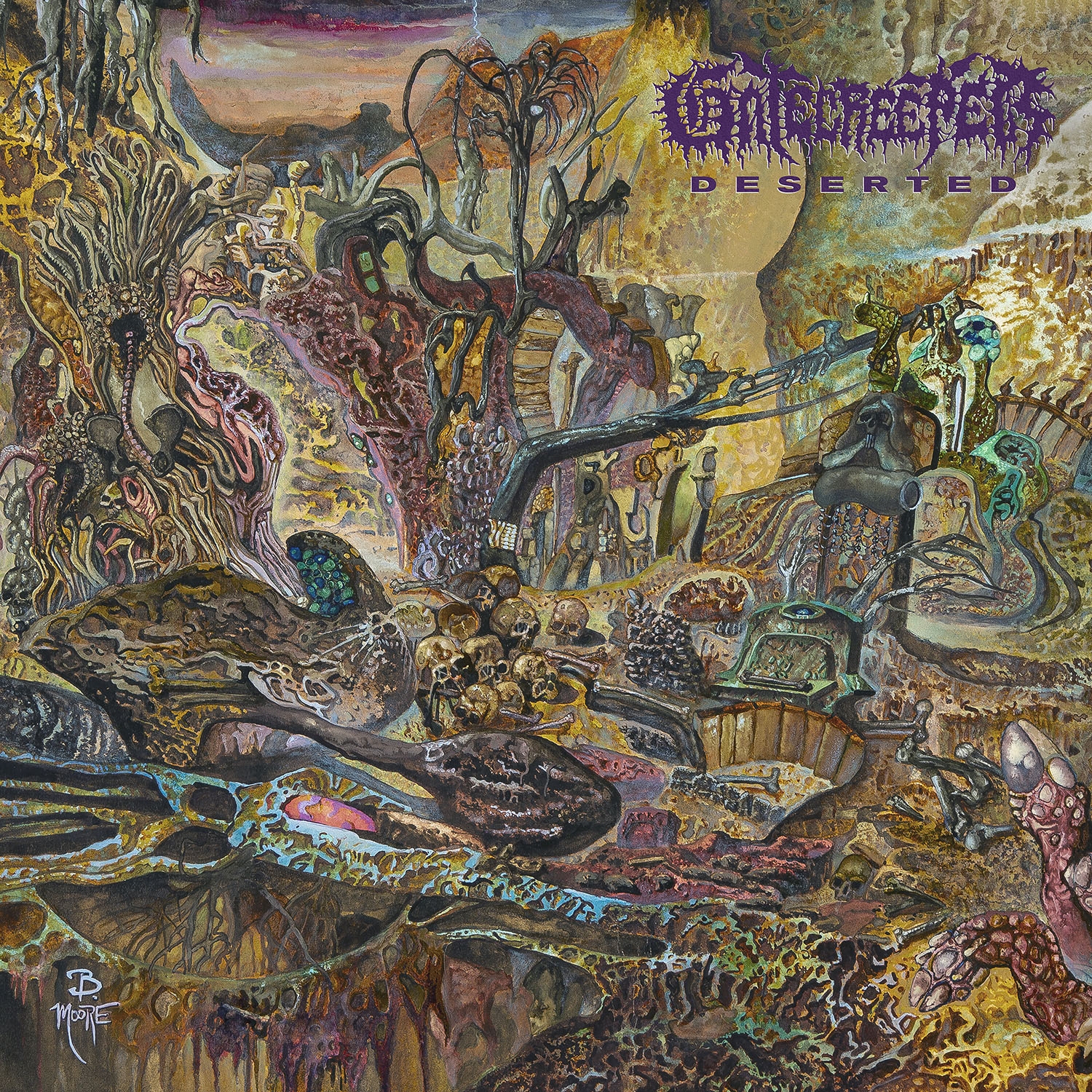 It was just a few years ago when Gatecreeper properly entered the metal realm with their debut album, and it rightfully made a sizeable splash for anyone who was paying attention at the time. With a ferocious mid-paced tempo and seething riffs that could boil your marrow in an instant, there wasn't much about "Sonoran Depravation" that didn't absolutely smash from beginning to end. It wasn't long before we started getting little pieces of Gatecreeper across splits and EPs, but it was a full-length shot that we needed most that I was looking most forward to. It didn't take them long to deliver the goods, and it's with "Deserted" that we've gotten a menacing helping of scathing death metal that I was truly not expecting!

It could be easy to shove some riffs into your death metal and expect people to eat it right up to call it a good album done, but some bands just aim to go above and beyond with their craft. When it comes to Gatecreeper, it's clear these guys put an incredibly heavy emphasis on the heaviness itself and it doesn't take a long listen to see how that's the case. The band made it clear one their first full-length that they weren't here to f*ck around, but now it's with "Deserted" that they're proving to us their definite lasting power and how they're not some one-trick band that can't keep any sort of momentum. It's at every single possible turn with "Deserted" that Gatecreeper brings power and quality to the maximum.

Right from that face-melting cover art, we can tell that Gatecreeper was trying to accomplish something with this album. They went for an incredible array of lessons the likes of which only some of the most scathing death metal can bring forth, and it's some of the most scathing death metal that we're treated to track by track with "Deserted". There isn't a single song off of this powerful album that couldn't stand proudly on its own as Gatecreeper poured their all into every piece of this album to make it not only the best thing that they've delivered thus far but also arguably one of the best death metal records we're to get this year! So much ferocity and exquisitely visceral energy is packed so tightly within "Deserted" but topped off with no less than everything that a great death metal album needs from undeniable riffs to magnificent vocals to tremendous musicianship and Gatecreeper knows how to utilize every one of those to maximum potential throughout every infectious moment this album calls its own.

By the end of this mammoth effort, we've been treated to an absolute tour de force of modern death metal that is not to be f*cked with for even an instant as Gatecreeper are at the top of their game to show us exactly what they're made of and all of it is f*cking stupendous from start to finish. "Deserted" should easily be considered as one of the best we're to have gotten from this style all year long, and just witnessing its mastery should be enough proof as to why exactly that is the case.
"Deserted" releases on October 4th via Relapse Records! You can pre-order "Deserted" via multiple sources here, and listen to the single "Boiled Over" via YouTube below or multiple singles on Bandcamp here.

Track Listing:
1. Deserted
2. Puncture Wounds
3. From The Ashes
4. Ruthless
5. Everlasting
6. Barbaric Pleasures
7. Sweltering Madness
8. Boiled Over
9. In Chains
10. Absence of Light
11. Anxiety (Bonus Track)