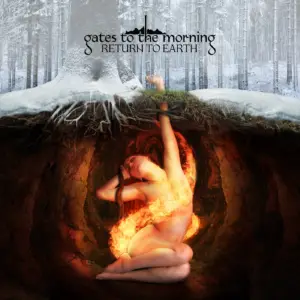 There are reviews that are easier to write than others. There are also reviews that are written beforehand. I mean just one listen, and voilà, it's written. There is no rule to that. Sometimes the more different the band, the easier to write about it, even so, the more plot twists there are in an album, also the easier to write about. Gates to the Morning with "Return to Earth" fulfill both requirements, the band is different enough and there are lots of plot twists in "Return to Earth" to write about. There are so many different moods in "Return to Earth" that it gets hard to give Gates to the Morning a proper label. I have to admit I like that a lot. This kind of band challenge us because there is a dash of many things in it.
In fact, it is very hard to tell what Gates to the Morning do in "Return to Earth" because it is so complex. All fourteen songs – fourteen?! – have lots of moods and changes of tempo, cadence and vocals providing the fan songs that have the right amount of aggression, melody, anger, and other feelings that only Metal bands provide. "Return to Earth" kicks off with an atmospheric acoustic intro that gives a hint of what it is to come. "King Obscure" reminds a lot Pink Floyd's "The Wall" ballads with the bass lines doing a lot more than giving the rhythm. Then comes "Terra Incognita" with a 'flying' guitar riffing – a riff that makes you wanna fly with the song. In a sudden, what was a smooth song goes frankly to a devastating carnage. Great effect. It works fine for Gates to the Morning. "Terra Incognita" and all the other songs follow the formula Pink Floyd mixed with Slayer – if you get my point. The fan can notice that "Return to Earth" was an album recorded with lots of care. This means a lot these days. Clean vocals are an extra. Of course from where I'm standing. I believe that mixing harsh vocals with clean ones is a killing combination. As I said I love constrasts and "Return to Earth" offers lots of them.
Gates to the Morning "Return to Earth" will be released on July 19th.
Track Listing:
King Obscure
Terra Incognita
Surveying Forgotten Landscapes
My Star
Crossing the Abyss
Freezing the Sundials
Chapel Perilous
Crestfallen
Haunting the Third Chamber
Chasing Shadows
Two Winters
Steadfast
Rekindled
Return to Earth
Watch "Retunr to Earth" official video here: