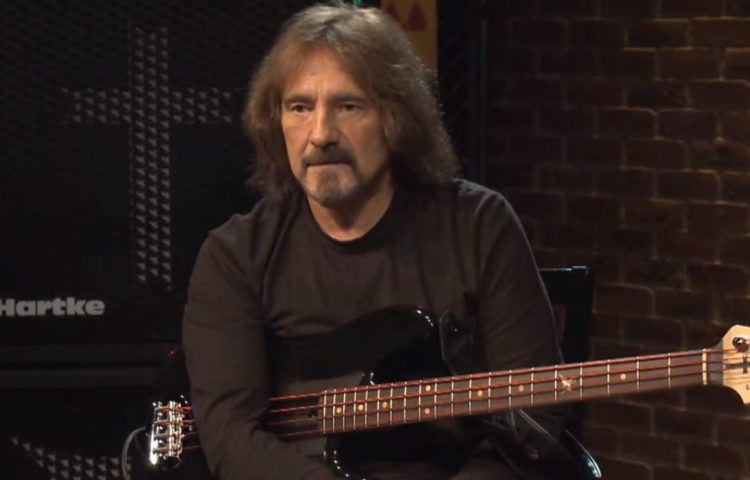 In an interview with Uncut Magazine, BLACK SABBATH bassist Geezer Butler revealed what was the weirdest gift he ever received from the fan.
He said (via Music News): "I'll never forget that. I think it was in San Francisco. Somebody threw this massive bloody brass cross at us, about 18 inches. It hit me in the eye. Nearly blinded me. But I kept it.
"There's also a painting someone gave us in Russia, with us as Samurai warriors. Gloriously hideous. We look like four versions of Ken Dodd. They found the jacket I wore on our [1972's] Vol. 4 album sleeve. And my silver six-inch platform boots, with red crosses up the sides. God knows how I wore them."
In a recent interview with Classic Rock, Butler has said that he is he isn't ruling out a one-off BLACK SABBATH reunion.
"If it came up, I wouldn't say never. I can't imagine it ever happening, but then I said that about the SABBATH tour, and it happened, so who am I to know?"
Drummer Bill Ward recently shared a video saying he would be very open-minded to any ideas" about playing with his BLACK SABBATH bandmates in the future.
"Hi everybody. My name is Bill Ward, and I wanted to say that I love Tony [Iommi, guitar], Geezer [Butler, bass] and Ozzy [Osbourne, vocals] very much," he said. I've loved them for a long time, and I still do. And I would be very open-minded to any ideas about playing together in the future. That's it. Love you all. Thanks."
In May, Ozzy told Keerang that he would like one more SABBATH concert with Ward who wasn't involved in band's farewell tour.
"I didn't like the fact that Bill Ward wasn't there, for a start," he said. People put that down to me, but it wasn't me, honestly. We [SABBATH] didn't have the f*cking time to hang around, we had to get going, but I'm sorry it didn't work out with Bill. Tommy [Clufetos, Ozzy's drummer, who played with SABBATH on the farewell tour] did great, but the four of us started this, and it should have been the four of us ending it.
"Those final gigs in Birmingham were bittersweet because you think of how far we came, and how much we did, and it would have been good to have shared that together. Maybe one day there'll be one last gig, I don't know."
On 11 November, 2011, Iommi, Butler, Osbourne, and Ward announced that they were reuniting to record a new album with producer Rick Rubin and to start touring in 2012. In February 2012, however, Ward left before work commenced on 13, the first studio recording to include original band members Iommi, Osbourne and Butler since the live album Reunion  (1998), which contained two new studio tracks.
Ward said that he had failed to reach an agreement regarding his contract. However, he did later admit that his weight would have been an issue in a 2013 tour. Osbourne also suggested in an open letter that Ward's decision not to take part was down to his health. In April 2015, Ward criticized Osbourne on his Facebook fan page via a letter to his and the band's fans, which prompted a rebuttal from Osbourne on his Facebook page.