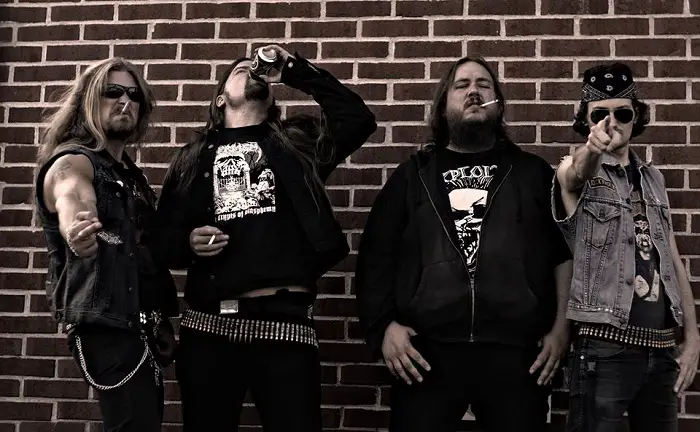 GEHENNAH is back to stink up the scene once again, with their fourth full length album "Too Loud To Live, Too Drunk To Die", set for release February 12th 2016. This marks the bands album-debut on Metal Blade Records, and the first full length album by GEHENNAH since 1997's 'Decibel Rebel'!
Make sure to check out the video to the title track as well as the cover art of "Too Loud To Live, Too Drunk To Die" below. At the same location you can pre-order your copies of the album on vinyl and CD!
The album contains 13 tracks of dirty and raw street-metal, destined to please the hardcore filth hounds of the scene, and annoy the ponytailed internet-snobs who prefer their metal clean and polished. The album was recorded in Studio Cobra in Stockholm and produced by Martin Eherencrona and GEHENNAH in the summer of 2015.
In early 2015 GEHENNAH released the extended EP 'Metal Police' exclusively on vinyl through Metal Blade Records, a comeback that gained praise from old and new supporters. 'Metal Police' is now available on CD as a bonus on the limited first edition of "Too Loud To Live, Too Drunk To Die"!
Track listing "Too Loud To Live, Too Drunk To Die":
1. Still the Elite
2. Life Metal Must Die
3. Too Loud to Live, Too Drunk to Die
4. Scumbag
5. Gehennah Will Destroy Your Life
6. Let's Fall off the Wagon
7. 'Cause We're a Street Metal Band
8. Tonight We Fight
9. When All Else Fails – Destroy!
10. Low on Cash, High on Speed
11. We Stole Your Song
12. Unholy & Unpleasant
13. All of the Decadence, None of the Success
GEHENNAH was formed in 1992, and first made their presence known in the scene in the mid 90's with the three albums 'Hardrocker', 'King of the Sidewalk' and 'Decibel Rebel'. Going for thrash black 'n' roll with Venom, Bathory and Motörhead as main influences in a time when melo-death and atmospheric troll-black metal was all the hype, the band got a loyal following among the scenes coolest cats.
Lyrics about drinking, criminal activity and random decadence and music played with more street-attitude than technical mastery has always been the trademarks of GEHENNAH, and "Too Loud To Live, Too Drunk To Die" is no exception from that rule. Expect a full on attack to the liver!
Line-up:
Mr. Violence – Vox
Rob Stringburner – Guitar
Hellcop – Drums
Charley Knuckleduster – Bass