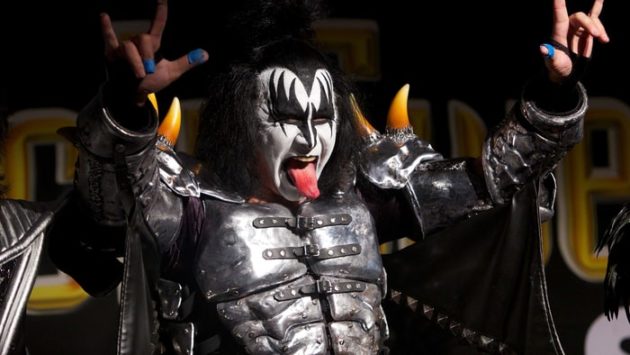 KISS bassist/vocalist Gene Simmons told U.K.'s Classic Rock magazine that he started throwing the devil's horn gesture as an "homage" to Spider-man, who is known to make the motion in movies and his comics to activate his powers.
Most music fans have slammed Simmons for the trademark request, saying the symbol has become ubiquitous and means different things to different people.
In issue 196 of Classic Rock magazine, Simmons revealed where he got the inspiration for the gesture, explaining it was inspired by Spider-man and the way he shoots webs from his wrists.
Simmons told Classic Rock: "We laid down the templates. When you see bands rocking out in sync, that's us. When you see bands putting up that two-fingered devil horn salute, that started with KISS."
When asked if it was Ronnie James Dio who actually started it, Simmons replied: "Well, I've heard Ronnie say that to my face and I said, 'God bless you.' I mean him no ill will, but I think he's wrong.
"Mine came from Spider-man doing his hand signal, as a homage to him. If you see me in photos, I'm sticking out my thumb. That's the sign in sign language which means 'I love you.'"
Simmons filed an application last week with the U.S. Patent and Trademark Office for a trademark on the hand signal fans and rockers alike hold up during shows, in which the index and pinkie fingers are extended, the middle and ring finger are curled into the palm, and the thumb either sticks out from the hand like an errant branch from a tree or is also curled into the palm. The KISS bassist/vocalist claimed the gesture was first used in commerce on November 14, 1974, which corresponds to KISS's "Hotter Than Hell" tour. He wrote in his signed declaration that he believes "no other person, firm, corporation or association has the right to use said mark in commerce, either in the identical form or in such near resemblance."
Ronnie James Dio's widow Wendy has slammed Simmons for attempting to trademark the hand sign, calling it "disgusting." She told TheWrap: "To try to make money off of something like this is disgusting. It belongs to everyone — it doesn't belong to anyone. It's a public domain, it shouldn't be trademarked."
Source: blabbermouth.net