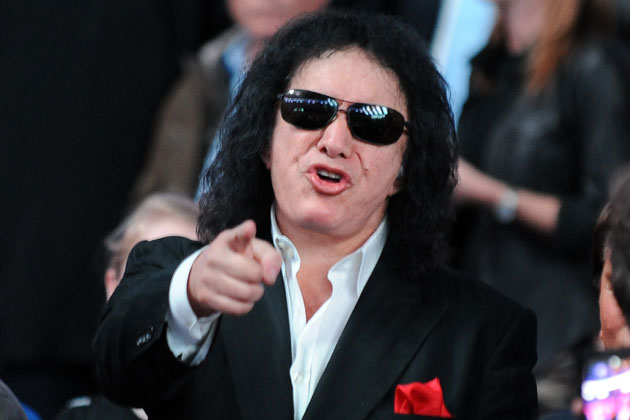 During a recent interview with "Talking Wax With Adika Live!", Gene Simmons discussed about KISS' new documentary "Biography: KISStory," and the lack of involvement of Peter Criss and Ace Frehley. "Biography: KISStory" premiered late last month with a two-night event on A&E.
"God love 'em, both Ace and Peter, in the beginning of the band, were just the best thing that ever happened to us," Gene said. "But they made such horrible choices in their life. And they continue to do that — they continue to make really bad choices, not just in terms of their health and what you ingest, but career choices.
"Like, we just had this documentary that came out that's a headlining thing at the Tribeca Film Festival, and, of course, without even thinking twice about it, we reached out to both Ace and Peter, 'Hey, come and be part of this thing. You helped create the band. No question about it.' And they refused. Ace wanted certain… 'I want this. I want that. I want editing rights,' and that kind of stuff. And God love him, that wasn't gonna happen. I didn't get those rights and didn't want them; I just wanted to throw caution to the wind and get the thing done. So they barely appear in it."
Last month, KISS frontman Paul Stanley said on a SiriusXM's Ozzy's Boneyard: "Some people might take exception to it… Some KISS fan might say, 'Well, how come there isn't more of Ace and Peter?' Truly, those guys didn't want to be a part of it without certain… I think there was talk of final approval of footage and editing, and that's fantasy — that's fantasy. It's really a story of the band.
"I keep saying we couldn't be here today had it not been there for Ace and Peter being there in the beginning. We also couldn't be here today if they were still here. I try to put that into perspective.
"We live by a template that the four of us started, but everybody isn't built to go the distance, and everybody isn't built for the marathon," he added. "So this really is ultimately the story of me and Gene, and KISS, and the story of the band from the beginning till today."
KISS has recently announced announced the rescheduled dates for the next U.S. leg of the "End Of The Road" tour. The trek kicks off on August 18, 2021 at Xfinity Center in Mansfield, Massachusetts and concludes on October 9, 2021 at MIDFLORIDA Credit Union Amphitheatre in Tampa, Florida.
Tickets and dates for the tour are available at this location.