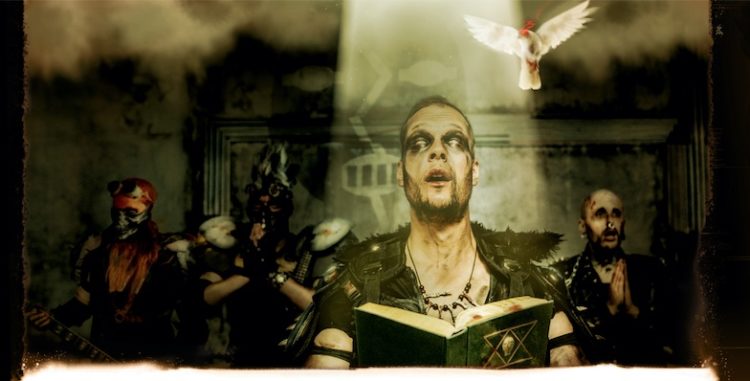 Germany's rising, post-apocalyptic industrial band SCHRAMM will release their 2nd full-length album, Nuklear Fetisch, on September 28th with Cleopatra Records. In anticipation for the impending release, the band has has released video  for a brand new single called "Schreie."
Set in the wastelands of a dystopian future, SCHRAMM lays waste to viewers in their turbulent new video for  "Schreie." 
""Schreie" was shot in northern Germany, on the desert-like terrain of a disused nuclear power plant. We wanted to make a visual homage to Madmax, and we fulfilled that wish with the support of Grenzwert Images from Berlin. After a long search, we bought a suitable car and tinkered with it in the spring for weeks. We had a lot of fun doing that. We then had to drive the car with a trailer to the location, as it was no longer allowed for traffic. That attracted a lot of attention on the street. Since the song is about kidnapping, we were looking for a suitable female cast. However, we quickly decided that our drummer Roman would take over the role of the lady. This not only looks more bizarre, we were also able to act very roughly with him." – SCHRAMM
SCHRAMM's upcoming album is a masterclass in organized chaos, as the band pounds through 15 tracks with massive riffs, hypnotic synth and bone rattling beats that showcase a blend of influences such as electro, industrial, rock, gothic, metal and 90's dance.
"It's all danceable, but you can also shake your head. We sing in German without exception and address dystopian and bizarre topics. But also serious and political statements are included. Frontman Robert plays his theremin in many songs. Also live on stage. The musical instrument theremin has become a figurehead with us. In the song "Schreie" we have a feature of the Berlin EBM band AD: Key. In the song "Dreiezehn" a feature of THE HORRORIST. Oliver Chesler is a techno legend from New York ("One Night New York City"). He has spoken crazy lines of text in German for us." – SCHRAMM
Energetic and provocative, SCHRAMM presents a post-apocalyptic stage show with brutal beats, live instruments, projections, theatrical performances and German lyrics. Initially founded in 2006 as a studio project, the formation from Greifswald / Usedom recorded numerous appearances in Germany and abroad, several music videos and remixes for well-known artists. The eponymous debut album "SCHRAMM" stayed in the Top 10 of the GEWC Charts for several weeks and since 2012 finds its way into international scene clubs and music stations. The second album "Nuklear-Fetisch" will be released on 28.09.2018 as an extensive 15-track longplayer. SCHRAMM bridges the gap between dystopia and dance pleasure, weird sounds and self-constructed stage structures. Human and social abysses serve as fuel for a highly explosive program.