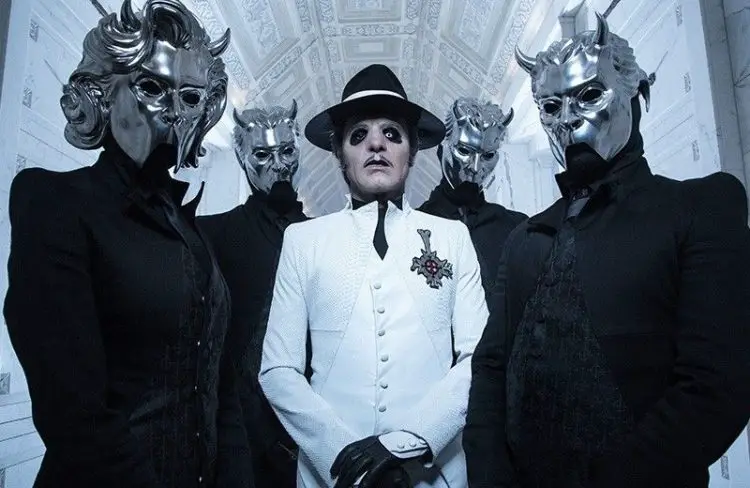 GHOST has added seven new dates to their "Ultimate Tour Named Death," six-week North American headline arena tour, adding shows in Edmonton, Toledo, Moline, Youngstown, Huntington, Hamilton, and Ottawa.
A series of ticket pre-sales begins today at 12 noon local, and the public on-sale starts at 10 a.m. local this Friday, May 24. Log on to ghost-official.com  for all pre-sale, VIP packages, and ticketing details. With NOTHING MORE providing support for the tour and TWIN TEMPLE supporting on the September 28 SLC date, the Frank Productions Concerts-produced fall dates kick off on September 13 in Bakersfield, California and run through to October 26 in Glens Falls, New York.
Newly added dates are as follows:
Sep. 23 – Rogers Place, Edmonton, AB 
Oct. 08 – TaxSlayer Centre, Moline, IL 
Oct. 10 – Covelli Centre, Youngstown, OH 
Oct. 11 – Big Sandy Superstore Arena, Huntington, WV 
Oct. 15 – Huntington Center, Toledo, OH 
Oct. 17 – FirstOntario Centre, Hamilton, ON 
Oct. 18 – Richcraft Tire Center, Ottawa, ON
In a recent interview with Revolver Magazine, GHOST mastermind Tobias Forge talked about the musical direction he wants to pursue with the band's next album.
The musician pointed out he is aiming to "make a different record" from the latest GHOST effort, 2018 Prequelle, which he described as "a little ballad heavy." 
Tobias added: "I want it to feel different. If I dare to say 'heavier,' people think that it's going to be Mercyful Fate all the way … but I definitely have a darker, heavier record in mind."
GHOST's latest album, Prequelle, was released on 1 June 2018. The album marked the band's strongest selling debut to date, landing at number 3 on the Billboard 200, selling 66,000 copies in its first week, with 61,000 of those being "traditional" album sales.