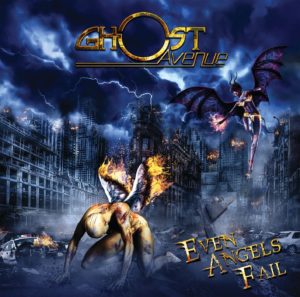 The most rough critique made to Metal is that we are dinosaurs stook in time making the same music it was made in the 1980s or so. Well, from where I'm sitting, I say praise the Lord! In a world that change means worsen our quality of life by stealing us the right of listening to real good music, please count me out. It is a fact that this media abiding music is getting worst and worst as time goes by and as record companies get more and more desperate to kill the monster they created years ago. It's the laws of retribution. Just that.
On the other side, a lot of obscure bands are having the unique oportunity to have their first albums recorded by even more obscure labels, most of them specialized in a determined kind of music. Many artists that couldn't have the change even in the good times ever are getting it. Of course, there are the pros and cons as usual in life. That music market golden  days of the 1970s and 1980s are definitely gone. For good.
And then we have here a band as Ghost Avenue with their fourth effort "Even Angels Fail" whose title tells us a lot about these days. But the gods of Metal haven't failed by the content of the album. Old School Heavy Metal is alive and pretty darn well, if you ask me. For the nostalgic and thirsty for blood fan of the good old days of Heavy Metal "Even Angels Fail" comes with it all. Opening track "Best of the Best" really does justice to the title. Its palm-muting technique in most of the riffings is highlighted as one of the most appreciated efforts in Metal music due to its astonishing and wall-of-sound effect. "Even Angels Fail" offers lots of opportunities to listen to this and other techniques. Time-out here to talk about vocalist Kim Sandvik's voice which remainds a lot German gods as Accept's Udo Dirkschneider. Rough and strong and well-put, just the way heavy metallers like.
For what it's worth Ghost Avenue keep the Metal flame high as usual and deserved. It's pretty hard to point out only one track from this hard working album. They are all de rigueur flawlessly performed and written. Okay, then, if I were to pick only one up I'd choose "Still Craving" just because it is in a veru different mood from the album.
Ghost Avenue "Even Angels Fail" will be released on August 07th via No Remorse Records.
Track Listing:
Best of the Best
Breakdown
Wasted Generation
The Fallen
Still Craving
Take Cover
Northman
Hero
Vionet Disturbance of the Peace
Even Angels Fail
Watch "Even Angels Fail" teaser video here:
937