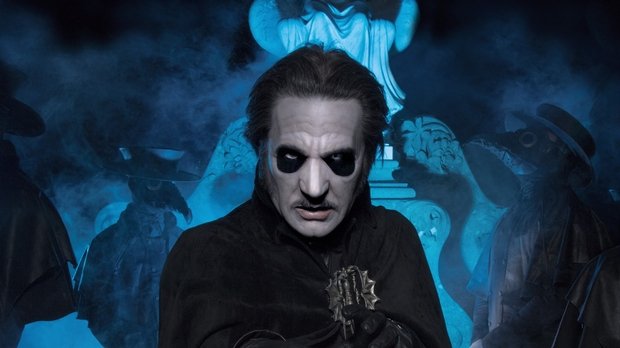 GHOST mastermind Tobias Forge has been named as Metal Artist of the Decade by Loudwire.
Tobias launched GHOST in 2006 in his hometown of Linköping, Sweden. The group's first full-length studio album was released in 2010 under the title of Opus Eponymous.
Forge has confirmed that the band has started working on new album, with one song to be recorded in January.
"I have been in the studio a couple of days to record a few demos," he told Finland's Kaaos TV. "I started that already in the summer, just to feel that, 'Okay. I've started.' After New Year's, I'm gonna go into the studio.
"First, I'm gonna record one song that's gonna be part of something that we will know of in the year from now. So that's the first thing," he continued. "And that's basically one singular song for something, and that's gonna be just to sort of get the rocks off a little.
"Because that way, you can go into a new studio, maybe — you can try something like that. You can try that new amp that you wanted to try, and that's more like an experiment. So, as soon as I'm done with that in January — that's gonna be the first or second week in January — after that, I'm just gonna start full time, Monday through Friday, being in the studio writing. And that's what I do up until May last.
"And June 1st, I'm gonna be in some other studio with preferrably the drummer that I've been using for the last 10 years for most of my recordings, and hopefully then we're gonna start recording the drums for all these 15 songs — something like that — I'm gonna write," Tobias added. "Some of them are written, some of them are in bits and pieces, and some of them I don't know yet."