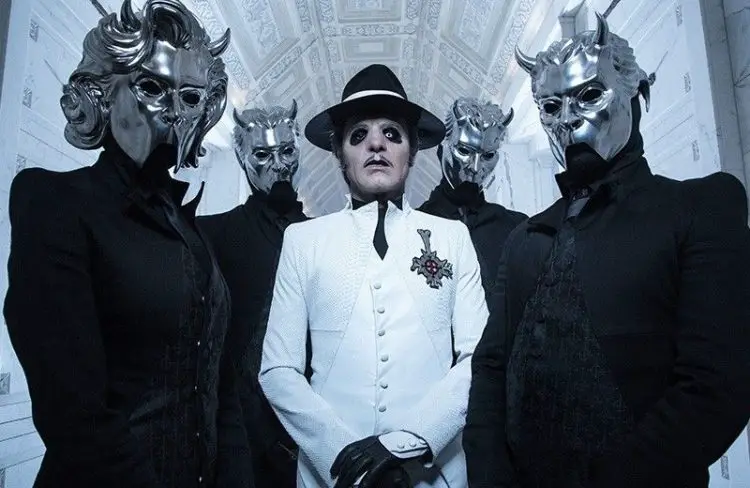 In an interview with Colorado Springs Independent, GHOST mastermind Tobias Forge spoke about the lawsuit filed against him by four former members of the band.
When asked if he thinks his former bandmates would have been less vindictive if he had given names to his Nameless Ghouls, Forge responded: "You mean, if I'd given them names instead of making them completely anonymous? Probably, I guess. It's hard to say. Because with most people that are drawn to the performance stage, you do so with a certain inclination to be seen and appreciated.
"So maybe if our positions were reversed, I would have felt the same way. Until seven or eight years ago, I really wanted to be famous, so my idea of being in a band was definitely different from what it turned out to be.
"I've been in charge and working on this full-time, nonstop, for 10 years," he continued. "Other people in GHOST would work a few hours every day, and then, during the four months between tours when I was making a record, they weren't really doing anything that had to do with GHOST.
"And since I was representing the band at all of the meetings, I was getting pats on the back and feeling like what I was doing was good. Whereas, if you had nothing to do with the day-to-day stuff, you maybe didn't get the pat on the back that you needed in order to feel fulfilled in life.
"So, you know, maybe if they had gotten their name on there, and could at least be recognized in the street, maybe that would have changed things. But on the other hand, I've played with others who didn't give a sh*t about that happening."
Forge, who founded the group eight years ago, was sued by the four ex-members in April 2017. Forge was sued by ex-members in April 2017 who accused the singer of cheating them out of their rightful share of the profits from the band's album releases and world tours.
The musicians have since appealed the ruling, and the case has now been referred to the Göta court of appeal in Jönköping, where it will be heard in March 2020.
The lawsuit, which was filed in the district court of Linköping, where GHOST was originally based, claimed that a partnership agreement existed between Forge and the four former members, all of whom performed anonymously in the band as Nameless Ghouls.
Forge said that "no legal partnership" ever existed between him and the other members and that they were paid a fixed salary to perform as his backing band.
The trial in Linköping District Court lasted for six days, and at 11 a.m. on October 17, a 108-page decision was released dismissing the case. The four former GHOST members were also ordered to pay Forge's legal fees.
Forge claimed more than two million kronor (approximately $225,000) in legal costs, but the district court was of the opinion that 1.3 million kronor ($146,000) was more reasonable.