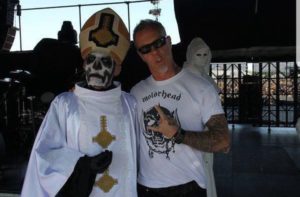 Like what they're doing these days or not, Metallica do have a place of honor on many people the best ofs – they do have in mine too, though I dislike what they're doing. Here we have Ghost's Tobias Forge's list as he disclosed to Metal Hammer. Take a look:
1. Battery
2. Creeping Death
3. Of Wolf & Man
4. Welcome Home (Sanitarium)
5. Fight Fire With Fire
6. Ride the Lightning
7. For Whom the Bell Tolls
8. Fade to Black
"This is a very special part of the set. Playing side-A of [1984's] 'Ride the Lightning' in full. Culminating in 'Fade to Black,' which brings the pace down a little, but it's a really important song in Metallica's career. It showed even that early, they were willing to go to places that their peers were not."
9. Blackened
"I'm not the biggest fan of [1988's] '…And Justice for All,' but I wanted to have this in there. And this would just lift the place up again."
10. Until It Sleeps
"I really didn't like the more rock 'n' roll- and blues-based material that Metallica went on to do, so I've kept quite far away from that period. But even I have to admit that this is a brilliant song, even though it's from an album that I am really not a fan of."
11. One
12. Master of Puppets
Encore:
13. Am I Evil?
14. Last Caress
15. Enter Sandman
"The all-time greatest banger you can have. You can say whatever you like, but you can't argue with this song."