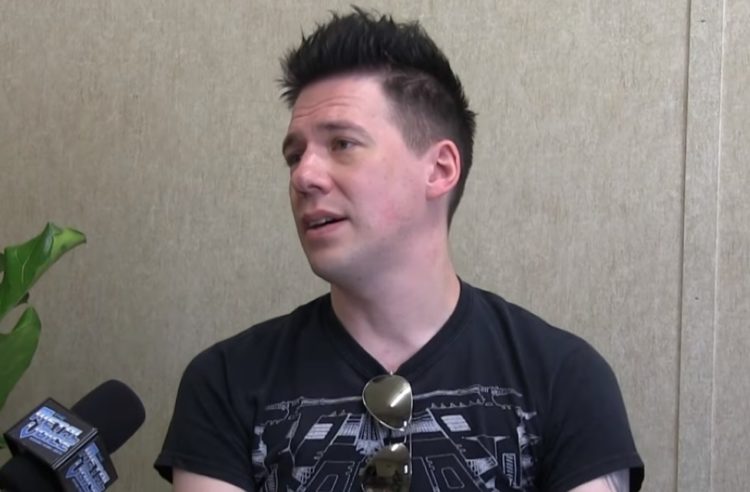 GHOST mastermind Tobias Forge was recently interviewed by Ultimate-Guitar.com.
"When asked what inspired him to pick guitar and learn to play, he responded: "I can't tell you that because I've listened to music since I was first born and as long as I can remember and a lot of it was guitar music. I know that some records I listened to a lot when I get my first guitar [a black Fernandes Strat copy] that I sort of fiddled around with were KISS Alive and the first two PINK FLOYD records, actually.
"We had PINK FLOYD records in our home but the first record that I got was a nice pair which was Piper at the Gates of Dawn and Saucerful of Secrets – it was two records in one. I've always played guitar to records or to radio or to TV. So I just end up playing over it.
"That's why I've never really been bound by tabs because I never wanted to play exactly what I heard, I wanted to step into the music as if I was playing guitar in the band," Forge added. "So if there was a solo, I would play my own solo, but you do have to learn to play the riff, so you have to pick that out. But I think that the combo of KISS and PINK FLOYD, even though listen to a lot of other music, that might give you an idea of [how I write songs]. As long as I've been in bands I've been told that my writing is weird for some reason.
"To me, it's completely logical but I'm told there's some weird timing, and chord changes and stuff and I can definitely attribute that to learning to play from PINK FLOYD," Tobias continued. "Because that gave me that sort of psychedelic vibe that was especially featured on Piper at the Gates of Dawn. Then, later on, I started playing along to SLAYER records, and MORBID ANGEL, and METALLICA, of course.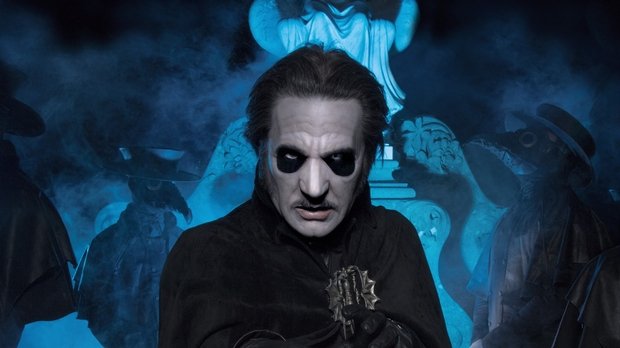 He was also asked which song was the most challenging to him.
"As a guitar player, I remember when I wrote "Spirit," I had a thing in my head…my way of writing is that I play drums, bass, guitar, and keys to a certain extent," he responded. "I'm not very fluent on keys because I've never played piano in a band or anything like that. So I have a hard time playing songs from start to finish.
"But I can figure things out and tinker with it. I [can hear in my head] what I want the keys to do, but I can't play it fast and on stage. I'm much more of a composer than I am a player these days. The last ten years, I've spent all my time on stage, not playing. So for me, most of my guitar chops were perfected 15 years ago, that's when I was playing in bands.
"When I was 20 I played death metal all the time so I got pretty fast and I had the arm for it," Tobias continued. So now, I could probably practice, but I don't think I could play death metal anymore, because it takes a certain amount of practice to have the arm for it.
"So for me, when I write, I sit there and I write every instrument, I write the bass, I write the guitars, I write the solos, I write everything. But then sometimes my head hears something where I say 'f*ck, I'm going to have to cut and paste things a little bit'. Some of the stuff is a little too complex to play from front to finish.
"Definitely, when I made the demo for "Spirit" during the solo there were two guitars playing solos, and the bass was kind of doing a solo, and at a certain point the keys come in and start playing the solo as well – that was definitely a song I had to piece together. When I made Prequelle I made an effort to practice more before during the demoing, before going into the studio.
"That made me a little more on edge when I went in to do the actual tracking, which was good. But when you go from composer to producer to performing mode, you want to do it from start to finish but it's pretty complex. I mean if you're a shredder, it's not complex, but it's easy to f*ck it up if you play it from start to finish.
"You have to also remember that these were songs that were never practiced. Whenever we would record, it wasn't like everyone had heard the song and played the song 100 times, we've never done that.
"GHOST has never been a band writing together and practicing songs or anything. It was always me recording demos and get the drummer in to play what's on the demo and then I build on it. Then whatever part needs to be done by someone on the outside, that person gets called in and they will play it like it's on the demo, just to get a very good take on it. For example, all the atmospheric spacey synth parts, on Prequelle I was adamant that even the most computerized sounding synth be played by a real hand.
"So I got Steve Moore from ZOMBI to come in – he's a friend of mine and we've toured together and he's really, really, good at playing that kind of '80s – late-'70ssynth-rock. But you can hear on the recording that there is a slight human touch to it, it's not metronomic, it's a hand playing it and that, for me, is very important.
"Same thing with piano tracks, I play piano on the demos, like this is how I want it to be played, and then I cut and paste because I can't play it [all the way through]. So I call my friend Salem [Al Fakir] who is an amazing prodigy of a piano player and he will play it through really nicely. He also adds textures little frills here and there that just make it sound fluid.
"That's why I like being a composer because you can give direction and then get it to come alive that way," Forge adds. "But it would be very hard for people, at least in any band I've ever been in, there has never been a time where we all came into the studio with a blank slate and came up with songs.
"I've never done that, it doesn't work like that, that's very hard, I only know one band who has ever done that successfully and that was LED ZEPPELIN. So this idea that people have that bands write everything together, that's very uncommon. There's always some sort of grain of an idea that you build a song around.
In a recent interview with Revolver Magazine, Forge talked about the musical direction he wants to pursue with the band's next album.
The musician pointed out he is aiming to "make a different record" from the latest GHOST effort, 2018 Prequelle, which he described as "a little ballad heavy." 
Tobias added: "I want it to feel different. If I dare to say 'heavier,' people think that it's going to be MERCYFUL FATE all the way … but I definitely have a darker, heavier record in mind."
GHOST's latest album, Prequelle, was released on 1 June 2018. The album marked the band's strongest selling debut to date, landing at number 3 on the Billboard 200, selling 66,000 copies in its first week, with 61,000 of those being "traditional" album sales.