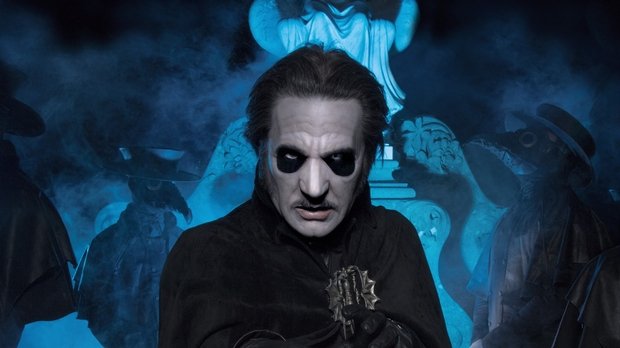 In a new interview with Ultimate Guitar, GHOST leader Tobias Forge talked about the band's follow-up to 2018's Prequelle.
When asked if the latest GHOST two-song EP Seven Inches of Satanic Panic is any indication of GHOST's new musical direction, Tobias responded: "Well, they were recorded 50 years ago so they have nothing to do with the new record."
Speaking on the band's new album, Tobias said: "I'm still yet to start the real process. The real process being: in January, I go into the studio, Monday through Friday, every week, just finishing tracks. That's how it works.
"So up until then, I don't know, there might be a song in my head but it's not finished until it's recorded. I've only recorded, so far, a demo of one track, just to get my rocks off and feel that I've started doing something.
"So one track is sort of listenable and then I have maybe 50 ideas for tracks but generally, in order to make a song, you need about three ideas to be put together into a song. So I feel that four months from now, the pile of ideas – riffs, vignettes, lyric ideas, and all these different things.
"'From the Pinnacle to the Pit' [from GHOST's third album, 2015's Meliora] was written on bass," Forge continued. That's why it sounds like that. Some are written as a drum idea, like 'Death Knell' [from GHOST's 2010 debut Opus Eponymous] was written as a drum idea. So there are so many different angles that the songs can start from.
"But now, knowing that I have one song I can listen to and the pile of ideas, I feel very confident that [I can get a new album done] from January to September [2020] – that's the production window – January is starting and September is mastering, basically. I feel as prepared now as I have going in to make any of the previous albums."
In a recent interview with Revolver Magazine, Forge talked about the musical direction he wants to pursue with the band's next album.
The musician pointed out he is aiming to "make a different record" from the latest GHOST effort, 2018 Prequelle, which he described as "a little ballad heavy." 
Tobias added: "I want it to feel different. If I dare to say 'heavier,' people think that it's going to be MERCYFUL FATE all the way … but I definitely have a darker, heavier record in mind."
GHOST's latest album, Prequelle, was released on 1 June 2018. The album marked the band's strongest selling debut to date, landing at number 3 on the Billboard 200, selling 66,000 copies in its first week, with 61,000 of those being "traditional" album sales.