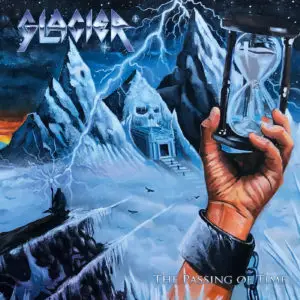 The epic and grand trends are the thing that attracts me the most in Heavy Metal bands. I guess all that atmosphere of greatness created are to celebrate nothing else than passion, glory and power. Besides technical prowness Heavy Metal celebrates emotion as well. Moreover, Heavy Metal fans love to brag that their albums are made of iron and steel besides other things. Well, I can say that "The Passing of Time" is also made of catchy choruses, licks and riffings and a neat instrumental. Take, for instance, second track "Live for the Whip" with the catchy chorus and the overwhelming instrumental which takes the fan by the hand and invite to travel to far places. Glacier's music is an invitation of a distant past and place far from reality. A place full of exciting music driven by neat guitars and a heartwarming vocal. When I hear the twin guitars of "Sands of Time" my mind flies free and goes to very distant places and times.
To listen to an album as "The Passing of Time" is something really worthwhile not only for the prowness, but also for all the emotion envolved. Besides celebrating the 1980s Heavy Metal Glacier recorded an album that is a celebration of the power and the glory in tracks as "Into the Night" whose killer guitar riffings and the drumming make the fan headbang at large. An album with instant classics as "Infidel" and its powerful and gluey chorus that makes the fan singalong. I confess it took me some time to take it from my mind. A song that is also embellished by the inspired and melodic guitar phrasing. By the way, pay attention to the layer of guitars the song has and discover a world where guitars rule. "The Temple and the Tomb" kicks off with a natural and inspired guitar phrasing which goes on and on during all the the track.
Musicwise I don't believe that Glacier have any resemblance with the mighty Saxon, but the band recreates all the emotion-drenched atmosphere and the feeling of belonging to something larger than life. is undoubtedly larger than life.
Glacier "The Passing of Time" was released on October 30th via No Remorse Records.
Track Listing:
Eldest and Truest
Live for the Whip
Ride out
Sands of Time
Valor
Into the Night
Infidel
The Temple and the Tomb
Watch "Valor" official music video here: