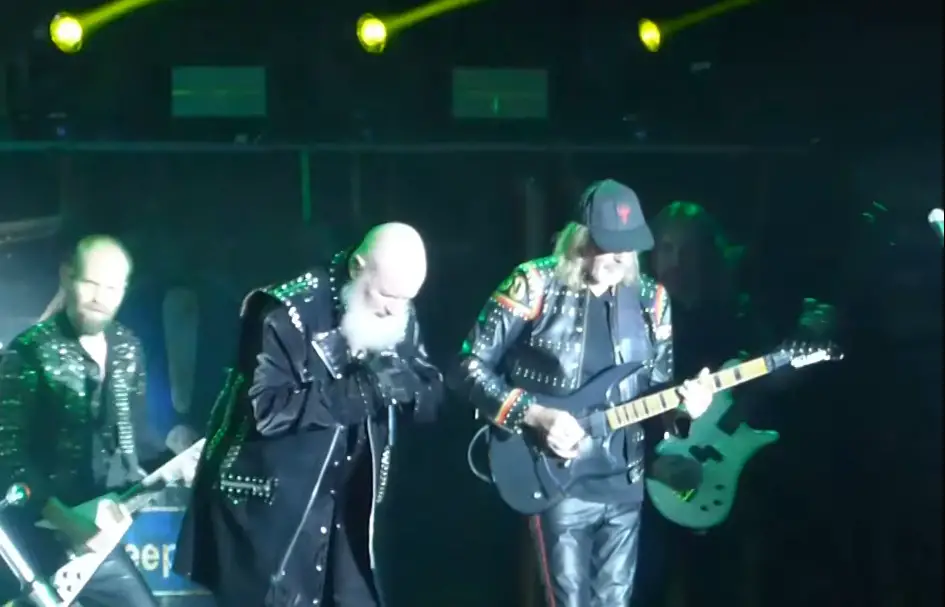 JUDAS PRIEST was rejoined by guitarist Glenn Tipton on stage during the band's headlining performance Sunday night (August 15) at the Bloodstock Open Air festival, which took place at Catton Park, Walton-on-Trent, United Kingdom. This also marked band's first performance in more than 2 years.
The British heavy metal legends, who are celebrating their 50th anniversary, pulled out a number of surprises for their first concert in more than two years, including first-ever performances of "One Shot At Glory" and "Invader", as well as several tracks that hadn't been played in a long time.
Full set list can be seen below:
01. One Shot At Glory (live debut)
02. Lightning Strike
03. You've Got Another Thing Comin'
04. Exciter (first time since 2005)
05. Turbo Lover
06. Hell Patrol (first time since 2009)
07. Halls Of Valhalla
08. The Sentinel
09. Rocka Rolla (first time since 1976)
10. Victim Of Changes
11. Desert Plains
12. A Touch Of Evil (first time since 2005)
13. Dissident Aggressor (first time since 2009)
14. Blood Red Skies (first time since 2012)
15. Invader (live debut)
16. Painkiller
17. The Hellion / Electric Eye
18. Hell Bent For Leather
19. Metal Gods (with Glenn Tipton)
20. Breaking The Law (with Glenn Tipton)
21. Living After Midnight (with Glenn Tipton)
JUDAS PRIEST will finally get the opportunity to celebrate their 50th anniversary this year with the launch of a North American tour this fall. The 50 Heavy Metal Years Tour will also feature SABATON as openers and is being fueled by the highest charting album of PRIEST's career, Firepower, which peaked at #5 on the Billboard 200.
Tickets and dates for the tour are available here.