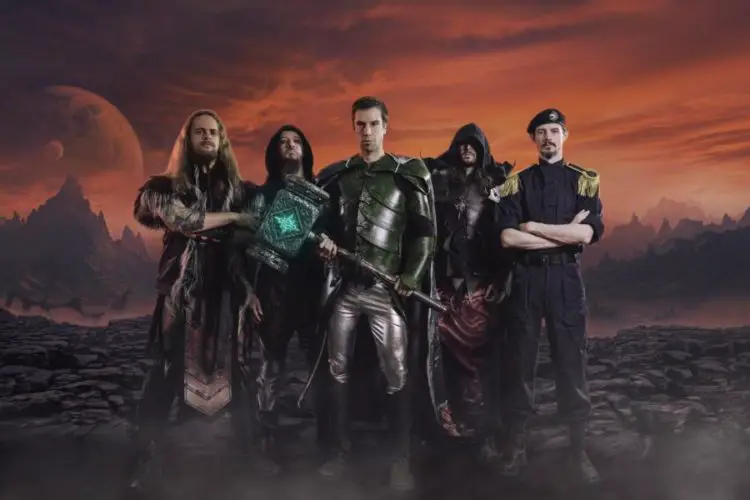 Following a statement from they keyboardist Christopher Bowes (read here), GLORYHAMMER have issued a separate statement after recent allegations of racism and abuse have been made against band members.
As previously reported, GLORYHAMMER have fired their singer Thomas Winkler and not long after that an anonymous woman accused band's bassist James Cartwright of abusive behavior via Twitter post. Other screen shots of what is allegedly a leaked group chat between band members shows them using racist and misogynistic language, including the n-word.
Band said in a statement: "To everyone affected by recent events,
"Following Christopher's statement today, GLORYHAMMER wish to sincerely and unreservedly apologise for the disgusting and inexcusable comments made by band members in a private group chat from August 2017 which have recently become public.
"We are deeply sorry for the hurt, distress and anger caused by the use of misogynistic and racist language and the shameful attitudes displayed within those messages. Most of all, we are sorry for letting you, the fans down by behaving in this way. To speak in this way, even in private, even as a 'joke', is wholly unacceptable.
"While we have wanted to comment on this situation from the beginning, we felt that we must respect Christopher's wish to address the issue himself first.
"Regarding other allegations that have been circulated involving members of the band: we wish to make it clear that these are false and all claims of this nature will be addressed and passed on to the relevant authorities.
"We understand that for many of you, this episode is unforgivable. Nevertheless it is our hope that we can move forward from this in a new spirit of humility and understanding, so that the mistakes of the past are never repeated. We promise to dedicate ourselves to making amends in whatever way we can moving forwards."