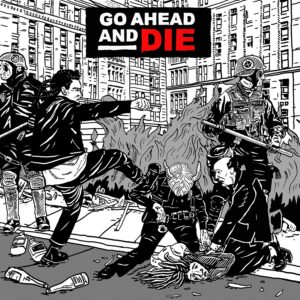 Long live the loud!
The Cavaleras dinasty – Max and his son – are back with and astonishing and increbibly heavy and powerful album of their new project Go Ahead and Die. It's no overreaction to say that here the brothers go back to their roots. For the record, they're back to their Hardcore roots. The debut and self-tittled album "Go Ahead And Die" is pure Hardcore with dashes of Thrash and Death Metal. A bit as early Sepultura, the band they founded. Some tracks do sound as Sepultura as "Prophets Prey." However, from where I'm standing "Worth Less Than Piss" is the track that reminds a lot more Sepultura's good old times.
Right from the start with the album cover Go Ahead And Die pass their message of desilusion and hatred that goes with a plitical agenda. Make no mistake, Go Ahead And Die take a stand and their position may bother many metallers all over this sad and pathetic and lonely little planet. I guess it's not wrong to say that the music in "Go Ahead And Die" is the instrumentals of Hardcore with the vocals of Death Metal. Of course, I'm making things simple. However, it's a good approach to the fan that wants to get an opinion before listening to the album. Lyrically "Go Ahead And Die" brings back political themes and approaches that Hardcore and early Thrash Metal loved to unpack. The album is full of despair, but the despair here means the social anguish of having so many people suffering while so few enjoy the life. Unfortunetly, this uneven game bothers only some. Others only turn the blind eyes or give the cold shoulders. The album has some great moods that break the Hardcore atmosphere giving it a more Death Metal approach as in the end of "Punisher" and in "El Cuco" with its breakdowns and cadenced pace. In "G.A.A.D" the intro is more like Thrash to then get very near the crossover made in the 1980s. The beauty of it is that there are lots of modern touches as the guitar licks and phrases that are in the background. The guitar riffing is straight and tight almost as a military march. What catches the eye is the fast changes of tempo that occur in the middle of the song and let the fan a bit dizzy. It's a song that changes a lot during its four minutes.
It's so good to see the Cavalera brothers work together again even more in an inspired and straight ahead right in the face album like this one. "Go Ahead And Die" is an album that sounds as direct hit punch in the face.
Go Ahead And Die "Go Ahead And Die" will be released on June 11th via Nuclear Blast Records.
Track Listing:
Truckload Full of Bodies
Toxic Freedom
I.C.E. Cage
Isolated Desolated
Prophets Prey
Punisher
El Cuco
G.A.A.D.
Worth Less Than Piss
(In The) Slaughterline MFi T
Roadkill
Watch "G.A.A.D" official video here: