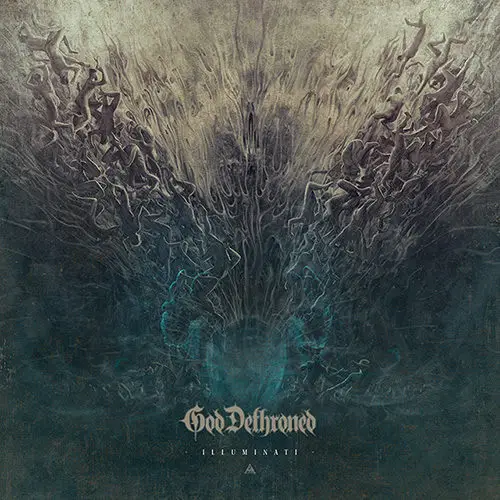 I feel it's pretty common for me, or anyone for that matter, to dive into any given extreme metal album and if the work doesn't really go out of its way to sound incredibly different, it sounds really monotone even if it's a thing like death metal that's always in your f*cking face. But, that's how I initially felt when I first came out of the newest album from God Dethroned. It felt like the album just kept the same sound a little too much, which felt like a huge detriment to the overall quality of the work. After a healthy break, though, the subtleties and small pieces of excellence spread throughout "Illuminati" persevered such that it becomes clear that the whole listen is something worth hearing for any fan of uncompromising death metal.

You can easily throw on this album and tune out to get what can really feel like your standard death metal experience the likes of which we've all seen hundreds and hundreds of times now, and even then "Illuminati" is better than many others at it! But, it's really when you sit down and go into the small intricacies of what God Dethroned has put forth that you can really start to see the layers of why this a death metal work worth listening to in just about every way.

The solid layer of melody that perfectly coats everything that's done all throughout "Illuminati" shows us to great effect what God Dethroned puts forth whether it comes in the form of just straight aggression or clean vocals that fit way too well alongside the little flavors that God Dethroned constantly bring to the table to make the entirety of this record a damn good listen no matter which way you slice it. It's a record that very much adheres to the general rules of death metal, but that doesn't stop "Illuminati" from coming into its own in order to become something much more than just another grimy album filled with riffs.

Plenty of what's been brought forth for this record is something that's definitely more than worth the time of the average death metal fan simply because this is more than your average death metal album. God Dethroned still has yet to put out something that I'd consider monumental on a grand scale, but there's no denying here that "Illuminati" is a behemoth of an album on so many different fronts and it's the exact sort of album that will continuously give you one delectable treat after another.
You can purchase "Illuminati" via multiple sources here.

Track Listing:
1. Illuminati
2. Broken Halo
3. Book of Lies
4. Spirit of Beelzebub
5. Satan Spawn
6. Gabriel
7. Eye of Horus
8. Dominus Muscarum
9. Blood Moon Eclipse