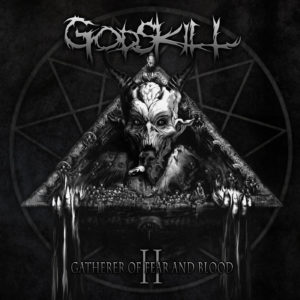 Some bands really make us travel in time. Some tracks makes us travel in time even more. Godskill with "The Gatherer of Fear and Blood" are a trip to the 1990s and its experiences on musical contrasts. The rough and gentle, slow and heavy, melodic and graspy, among others. Frank and solid influences of the northern Black Metal scene, the one that me go Black. "Demon Mother" make us travel even deeper into those influences. A gentle and smooth guitar phrasing contrasts with a graspy and shreaking vocal. The outcome is amazing.
Godskill are also a band that play with vocal contrasts as in "Ungodly Is the Flesh" with an astonishing angelical female voice contrasting with a male demonic roar. It just gives track title a good name. Godskill's formula is to interweave graspy vocals with a traditional metal instrumental, but not getting very near to Melodic Death Metal. Their vocals are much more graspier and guitar work is melodic but incisive enough to be near some Black Metal acts. Their thing is different. I pretty much liked the downstrokes in "The Eleven Kills the Ten" which gives it a killer effect. Drumming, though is pure NWOBHM. No blast beats. You see, guys, it is possible to have an exciting Death Metal drumming without blast beats.
But one thing is right, guitar phrases and solos are beyond amazing. I liked them so much. Timo Schütz is a killer with his axe. Very creative melodic interventions and solid riffing, though sometimes chordal. The dude us very resourceful and has plenty of ammo. His gun is loaded with an incredible blast of fire. The dude plays it simple when it is to be simple and plays complex when it needs to. As a matter of fact, there are hard options when writing a song. It's not easy to transpose your thoughts into real music. Believe me!
Godskill with "The Gatherer of Fear and Blood" is a great album for whom dare to think out of the box of raw Death Metal.
Godskill "The Gatherer of Fear and Blood" will be released on November 09th via MDD Records.
Track Listing:
The Eleven Kills The Ten
Demon Mother
Ungodly Is the Flesh
The Gatherer of Fear and Blood
From the Ashes of Angels
The Shell
Preliminary Invocation
Becoming a God
Watch "The Eleven Kills the Ten" official video here: