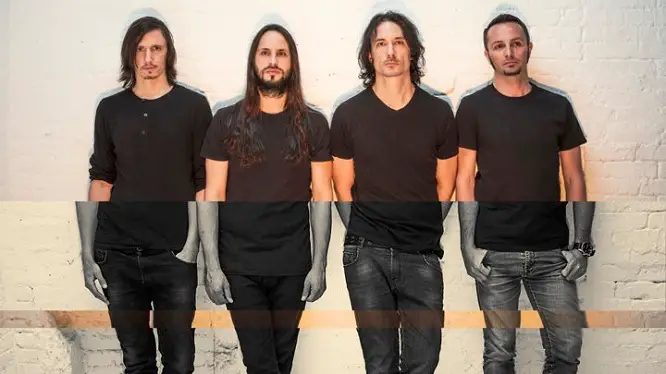 GOJIRA will release their new, yet-untitled, album this summer via Roadrunner Records. Album was recorded at GOJIRA frontman Joseph Duplantier's Silver Cord Studio in Queens, New York.
Joseph told RollingStone.com in a new interview that GOJIRA worked on twelve songs for the album before ultimately deciding on ten. "We want a short album," he said. "Something less epic than what we usually do. People's attentions are shorter now. So a lot of the songs are four minutes."
Joseph and his brother, GOJIRA drummer Mario Duplantier, put the sessions on hold when their mother got sick and eventually died. When they finally restarted the process, everything the brothers went through coalesced into a heavy, as-yet-untitled 10-track new record, due out this summer.
"We had a bitter taste about the album when everything was going on,"Joseph says. "We'd say, 'F**k, what about the album? F**k.' It took us months."
"But at the same time, it became the soul of the album," Mario says. "We respect the fact that this album took a long time, because it's full of emotion."
"I felt physically, mentally exhausted," Joseph told RollingStone.com. "At the same time, though, the way it happened was beautiful. We were all around her. We had to cancel a few shows when she died, but it was very enriching at the same time. We learned a lot about death."
"When you read Joe's lyrics, for me, I cry right away," Mario said. "They're very deep and to the point. No bulls**t. We recycle our sadness and depression in the music."
"Mario was recording drums, and I was playing guitar with him, just trying to help him know where he's at in the song, and both of us would start crying at the same time," Joseph added.
"The songs were half-written while she was sick," he said. "After she died, I still had to finish them. So one song was like, 'You're going to make it,' but the second verse is 'You didn't make it.'"
A video teaser from GOJIRA's forthcoming album can be seen below.
https://youtu.be/o-_aOZooy90