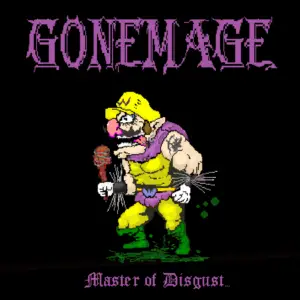 Funny thing when I put to play an album like this Gonemage "Master of Disgust…" is that my very first reaction is to pull it off. Than, in a second I change my mind as the album gets rolling and more and more quirky and uncanny traits come down. I'll ask my dear fan and child of the night to wonder what would be the outcome of Grindcore with Acid Jazz an some electronic efects or a bit of electronica. Pretty hard, huh? well, I have here the answer. It's Gonemage with "Master of Disgust…" with its insanely fast drumming, out-of-this-world vocals, and guitars that go beyond the limits of Metal music. Ah, and some completely quirky keyboarding.
This album is a total hodgepodge of influences mixed in a Grindcore cauldron. Not even the brass section is normal here. I genuinely avoid albums with brass sections most notably if the saxophones are too prominent but th effect here is totally insane. It's the total musical chaos, if you know what I mean. Sometimes the most Metal thing here are only the vocals because keyboarding and the other effects are more prominent but that's intentional. "WarioWare- Possessed Console," as the tittle says, sounds like those weird console tracks of some 1990s Nintendo game. Now that I got it, I think that "Master of Disgust…" was somewhat inspired by videogame soundtracks plus the some more weirdness. Following track "Demon Head and the Reign of Stench" initial moments bring keyboards with that Iron Buttlerfly overtones and sounds normal – I don't like to use this term but it's the better that I found – until the usual Gonemage sonic mass comes. While listening to this track my dear child of the night will have the notion what a real sonic mass is. It's the most pungent and hard track of the album. Not coincidentally – there are no coincidences – it's the heavier track of the album and, of course the most Metal. Here the effects and the weird stuff are in the background and, from where I'm standing, that's where they work best. The grand finale "Foul Portal to Delirium" is a one minute total musical disaster with only the effects I aforementioned.
This is an album that I recommend my dear fan to get to know that Grindcore can go even crazier than usual. It's great to see that boundaries are to be surpassed or even ignored. Five tracks os a total musical chaos and disaster – in the good sense. However, too electronic for me, but still interesting.
Gonemage "Master of Disgust…" will be released on May 13th.
Track Listing:
Master of Disgust…
Mega Toss into Crypts
WarioWare- Possessed Console
Demon Head and the Reign of Stench
Foul Portal to Delirium