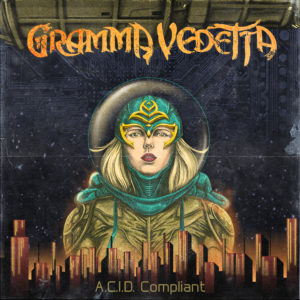 Definitely this is the semester of the EPs. We've been receving a lot of EP efforts this semester that I can't even count them. And the variety of styles is also huge. I guess it covers almost everything into Heavy music which is great. However, some fans may think it is easier to review an EP because it has less tracks. In fact, it is more difficult just because of it. The lesser tracks, the lesser oportunities to get the band's sonancy and soul. In this very particular case, Gramma Vedetta, it was easier.
To the ones that don't appreciate, or know, Heavy Rock, I must say that Gramma Vedetta with "A.C.I.D. Compliant" sound a lot as Black Sabbath's early efforts. The doomy cadences mixed with long clean instrumentals as a stapler of the band in this EP. Also is the change of mood during the track as first track "Hangup My Boots" shows. The bands does a great job in recreating the atmosphere of early 1970s Heavy Rock bands emulating the best way as possible the way music was done back then. However, the production made it sound more modern than, I guess, the band wanted to be. But it's the clean instrumental of second track "Porthole" and "A Lucid Dream (Lockdown Blues)" that the band shows everything they got. Its ethereal and moody atmosphere sounds a lot what Black Sabbath did in tracks as "Solitude" and Sabotage's "Am I Going Insane," "Megalomania" and "Thrill Of It All." Pure 1970s heavy music. Not doom, not stoner, just heavy rock. The slow guitar interventions are a highlight in them. Though everything changes in the short and heavy and dirty "Everything is terrible and the house is on fire (Dumb and Dumbest Theme)." Here the band sounds a bit stoner than planned I guess with a huge step on the shoegazed 1990s, but still with the taste of the 1970s. well, once again the title says a lot of what the band intended meaning an album full of acid trippings.
Gramma Vedetta bring the fan the taste of how music tasted in the early 1970s with some modern features which temptating makes them sound as a stoner band. I guess this was intentional, but no one will really know…
Gramma Vedetta "A.C.I.D. Compliant" will be released on July 03rd.
Track Listing:
Hangup My Boots
Porthole
A Lucid Dream (Lockdown Blues)
Everything is terrible and the house is on fire (Dumb and Dumbest Theme)
Watch "The Other Side" live video here:
913