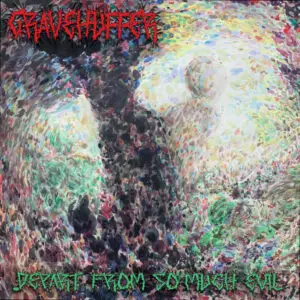 What's real intent when a Metal band calls its album "Depart from So Much Evil"? Is it to mock or are they serious about it? Well, at first, the answer might sound obvious. Pure mockery. It's clear for everybody that Metal music is much more about religious mockery or even blasphemous content as it's possible to check from all Metal imagery and iconography. However, behind all this there are some bands that take religiosity seriously. The are open to discuss religion in their albums. Maybe, just maybe this verve to discussion might get through some serius critique. It depends on what the band decides to do or even what the band is ready to take. This ground is still pretty shaky to step on. From what I heard here Gravehuffer have a distinct approach. A bit peculiar, let's say. It's only mockery, but it's not serious at the same time. Do you my dear child of the night get it?
Musicwise, "Depart from So Much Evil" is the amalgama of various influences that goes from Old School Heavy Metal to Hardcore, from Grindcore to Melodic Death Metal. That makes their also peculiar as their approach to religion. In this album my dear child of the night will find all kinds of moods and variations from the above mentioned influences. Except for the grand finale which, by the way, is also the tittle track "Depart from So Much Evil" all tracks have a direct and in your face attitude. They are masterpieces of a blood thirsty grip from Gravehuffer. The songs from album opener "Blueprint for an Early Grave" which has a short speech as an intro to go to a moody slow cadenced guitar. Little by little the speed is increased to reach a fast drumming with a very prominent and mesmerizing bass lines with a punk drenched vocal. "Slayberry" is even faster and represents the grindcore Gravehuffer do appreciate. Following track "The Cryptid And The Iron Bird" is more Hardcore from head to toe.
Right, now some words about the cherry of the cake that is the over twenty-minute tittle track. It's fair to say that in it Gravehuffer exercise all their likes in terms of music. "Blueprint for an Early Grave" is a synthesis of everything the band desires to pass the fan. Or even yet, it's amalgama of its various influences in only one track. It's here that the band gets more melodic. It's also here where the instrumentals get mor intricate as they can get. Needless to say that it's the more Metal song of the album.
"Blueprint for an Early Grave" is one more great surprise that 2023 is bringing us.
Gravehuffer "Depart from So Much Evil" is will be released on February 17th via Black Doomba Records.
Track Listing:
Blueprint for an Early Grave
Slayberry
The Cryptid and the Iron Bird
Brainstorm
Go Murder Pray and Die
Depart from So Much Evil
Watch "Blueprint for an Early Grave" official music video here: