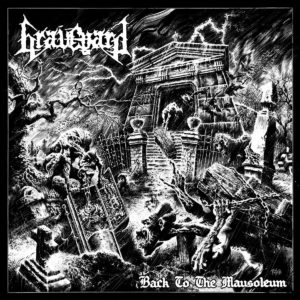 Graveyard are one more band that prove that a band does not have to fast to be furious. "Back to the Mausoleum" is an effort of more than speed. The intro and opening songs are two living proofs. Dark, consistent, and dense with a strong slow guitar riffing that creates the dark atmosphere so desire these days. Suddenly, "And the Shadow Came" gets fast, ferocious with some yells of despair around it. The thick guitar tone calls the attention and adds some more densitude to it.
Next track is a punch straight ahead in the nose. "Craving Cries I Breath" has a punk feeling with all the speed and fast cadence of the drums. Fast guitar riffing adds a lot of more punk attitude. The gloomy and hellish voice adds some more darkness to Graveyard, which is a band that knows how to explore speed plot twists. "Craving Cries I Breath" has a few of them. All tracks have some kind of twist in speed and some kind of twist in guitar techniques. Javi and Mark use lots of unexpect guitar techniques to a death metal band, for instance, some wah-wahs breaking all the agressivity of "In Contemplation," which also has a punk cadence.
"Back to the Mausoleum" is an effort not only to death metallers. It is for all that love extreme heavy music and a band that explores a bit of technicalities mixed with pure punk attitude. Graveyard are a band that handle perfectly with all those influences apparently unmixable. Those guys do some more in "An Epiphany of Retribution," where the twin guitar phrases embellish the song adding some finesse to its mesmerizing atmosphere.
So, there are only five tracks in "Back to the Mausoleum," but they are more than worth it. To be honest, the number of tracks does not really matter. What matters is the quality. And Graveyard really know how to build great headbanging songs.
Graveyard "Back to the Mausoleum" will be released on April 27th via War Anthem Records.
Track Listing:
Scorched Earth
And the Shadow Came
Craving Cries I Breath
In Contemplation
An Epiphany of Retribution
Watch "An Epiphany of Retribuition" official lyric video here: