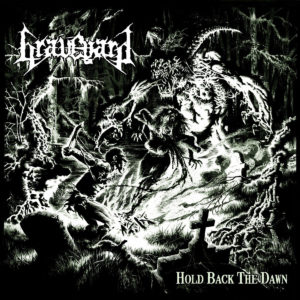 I keep saying that I find it great to have the opportunity to review band's following albums because they are the chance of checking out how the band is evolving. Better yet when the band hasn't step back from its vigorous and strong music as it is the case of Graveyard with "Hold back the Dawn" which follows 2018's "Back to the Mausoleum." With "Hold back the Dawn" it is possible to have eight fresh samples of what Graveyard have to show the fan with their fierceful and dark Death Metal which continuous to make no abuse of speed.
Graveyard's option for making a slower, but yet ferocious, Death Metal has to be praised because it gives guitars the opportunity to invest in a more creative enviroment. In fact, the guitar duo makes use of that whammy-bar technique that sparks the interest due to its flamboyant, and effective, sonance. In addition to it Graveyard choose to use tonal contructions that give a more powerful background to songs as in "O Beast I Fear Thy Name" which sounds as a good example of the match with Doom Metal.
Of course, Graveyard do not forget their Death Metal roots and write songs fast as the speed of light as "Swarm of Flies" and "Madre de la Noche," but they are exception to the rule. Graveyard find it better to cadence their songs in order to give the fan a myriad of experiences as in the middle of the song with the cadenced wall of sound created. I find it delightful, as a matter of fact and it makes "Hold back the Dawn" an album that pleases a wide range of fans without being a sell-out.
If you are in the mood for a band that varies a lot its speed and techniques, here you have Graveyard with "Hold back the Dawn," a living example that Death Metal still have a lot to burn.
Graveyard "Hold back the Dawn" was released on september 09th via War Anthem Records.
Track Listing:
Swarm of Flies
Winds Like Daggers
Of Extant Cults and Living Terrors
Hurled onto Damnation
The Storm above Port Sulphur
The Shrike
O Beast I Fear Thy Name
Madre de la Noche
Watch "Winds Like Daggers" official music video here: