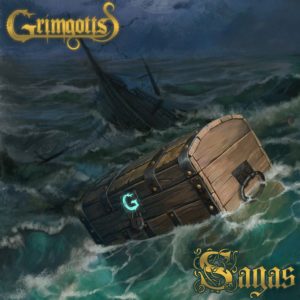 Grimgotts with "Sagas" fill in a black that apparently has been forgot by Power metal bands and is one the original features it had: the emotional acts. I say that that because the first thing that impressed me listening to Helloween "Walls of Jericho" was the emotional content it showed in the instrumentals and vocals. Guitar solos and licks were intentionally written to be big and to be emotional, or melodic just to use a more trendy term as people say today. It's really the kind of Power Metal that makes me happy. Grimgotts do that with flying colors. I could tell a dozen bands that made me the same effect, but I won't. Not that important.
The kickoff of the album is with "Northern Passage" which gives the exact tone that will be followed during it. A highlight to the melodic and sharp guitar interventions both in solos and riffing. The machine is very well lubricated here, if you ask me. The epic tone is the more important feature here plus the interventions. Each song in "Sagas" has a strong emotional content which is reinforced by the vocals or the once in a while keyboarding which reminds of a very good band that I don't hear from them in while. The band is Drakkar – take a look at it, my child of the night. I personally liked the most "Plunder, Loot and Chantey" with its "Hey" chorus and the 18th century popular melody about piracy – have we seen this thematic before? Truely it is a song to singalong nd happily whistle. I really like the climate of an ancient party the band built here. Well, Metal doesn't have always to be serious, does it?
I guess the best thing of "Sagas" are all the melodic and catchy choroses the band wrote. They are really remarkable and make the fan singalong easily. Fun fact about the band is that they started in 2015 as a Harry Potter parody outfit (?!?). Jokes aside, the piracy thematic gives them a plus. If it reminds you Thin Lizzy's "Whiskey in the Jar" you are navigating around the good seven seas. At least is an album to make the fan grims – well, not exactly…
Grimgotts "Sagas" will be released on August 14th.
Track Listing:
Northern Passage
Rise Again
Plunder, Loot and Chantey
Sagas
Watch "Rise Again" official video here:
943