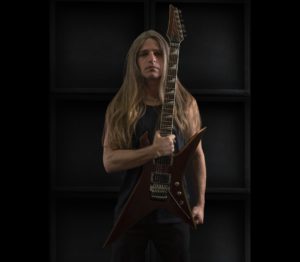 E.V. Martel will be the guitarist on MANOWAR's upcoming Final Battle World Tour 2019.
A musician since the age of 8 and devoted MANOWAR fan, E.V. lives the life of true metal and the music of MANOWAR. He has performed for years in the only official MANOWAR tribute band in the world. E.V. is proud to know every MANOWAR song ever recorded, and his style is a mix of all previous MANOWAR guitarists combined with his own metallic burning.
Joey DeMaio added:
 

"I can think of no one more deserving to play with MANOWAR than a fan themselves; one who has dedicated their entire life to our fans and our music and who he has proven to be a true Manowarrior!".
E. V. replied:
 

"I am honored beyond words to play for the greatest fans in the world! I live by MANOWAR's message every day of my life: Believe in yourself and even your wildest dreams can come true!"
MANOWAR's 'Final Battle World Tour 2019' will kick off on February 25th, 2019 in Tel Aviv, Israel and will span over 28 cities; from Siberian Russia to Germany, Scandinavia and Birmingham, England to the far west of France!