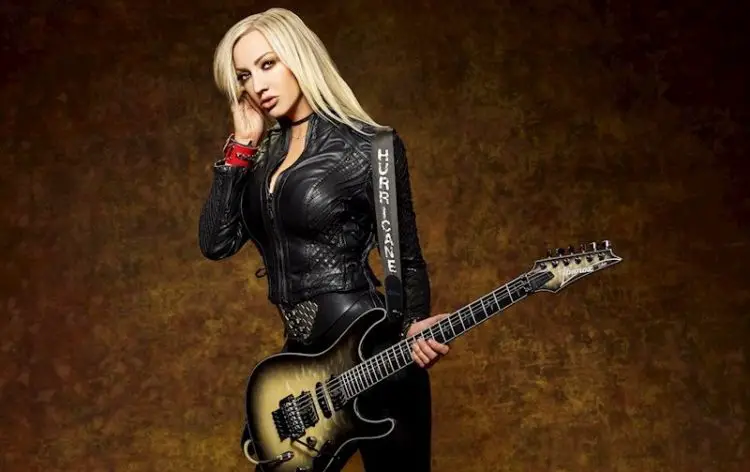 During an appearance on Joe Bonamassa's Live From Nerdville, ALICE COOPER guitarist Nita Strauss looked back on the early days, what she did to earn money, her relationship with Ibanez Guitars, how her Jiva signature model came to be, and more.
When asked about her Ibanez Jiva signature guitar models, Strauss replied (transcribed by UG):
"I worked so hard, so tirelessly. I dropped out of high school to pursue music – I never got higher education. I had stupid jobs like every musician. I used to work at a make-up stand in a mall when I was off tour so I could pay my bills… I have no ego that tells me that I only have to do music. I'll do whatever I have to do to make ends meet.
"But all I ever wanted to do is this, and it took precedence over the ruined relationships because I was missing too much stuff – and guys don't like having their girls on the road with dudes all the time. It would ruin relationships.
"And I didn't go to college, I didn't start a family, I put all of that on hold to pursue music full-time. And I love it, I love my choices and I would never trade it for anything in the world.
"But when it happened, it wasn't so much of a surprise, I was like, 'Finally!' I was with Ibanez for 10 years before I got that signature guitar. I was a faithful Ibanez artist, I was touring in every country in the world, I had a solo record, I finally checked all the boxes. I was so honored, so incredibly, with all of my heart, honored.
"I remember the first meeting with Ibanez in 2008. I went into the meeting, I sat down, I looked across people, and said, 'I think that these are the best guitars out there. If you want to give me a deal, I will proudly play these guitars and endorse all over the world how much I love them. And if you don't make me a deal, I will still proudly play these guitars and I will love them because I think they are the best guitars on the market and I don't want to play anything else', which took away all of my power during the negotiation.
"But 10 years later came out the Jiva 10, and a year ago, came out the two new models: Jiva Junior and Jiva X."
When she was interviewed by NI Rocks when she started playing with ALICE COOPER, she was asked "How would you describe working for him [ALICE COOPER]?", she replied:
"Alice is a true professional, true performer in every sense of the word. The man is a legend. I have never seen him have a bad show and that's the honest truth. Like you said, he always gives everything he's got. He leaves it all on stage. Even off stage, he's really amazing with his fans. He's definitely passionate about what he does and is really amazing with the fans; even if someone interrupts him when he is having a meal or is busy with his wife Sheryl who's on the tour with us, he always takes time to greet the fans, take pictures, answer questions and re-enact the "Wayne's World" scene where they say "we're not worthy" (laughs). He always takes time for everybody."