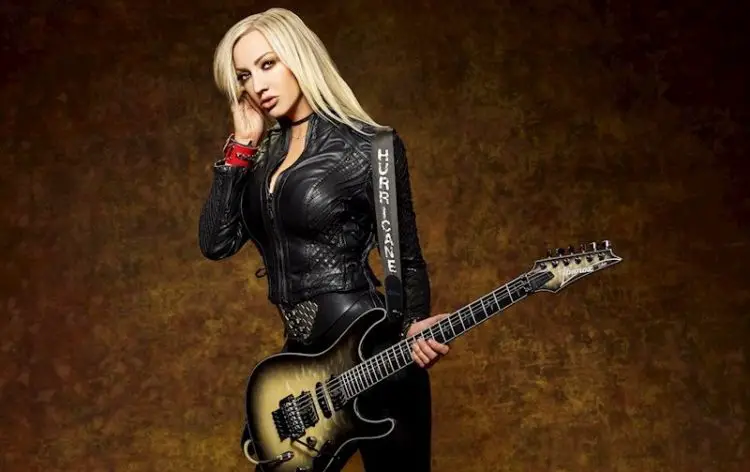 During an appearance on The Sessions Panel, guitarist Nita Strauss looked back on landing the gig in ALICE COOPER's band back in 2014, how her name was brought up and what the audition process was like.
When asked: "When did the Alice Cooper gig come up? How did you make that contact and how'd that all begin?", Nita replied (transcribed by UG):
"So that was 2014, I was on a gig called The Monsters of Rock Cruise, and I was actually doing double duty that year. I was playing the Iron Maidens, and I was also playing a band called Femme Fatale. And one of the shows, it was the middle of the night, we're on a cruise ship with 30 other bands, we played at one o'clock in the morning in the belly of the ship, and after the show, I started talking with Kip Winger, who was also on the cruise, playing with Winger."
"And as we got talking, he asked me what I was doing, was this my full-time gig, and I said, 'No, this is just something I'm doing, and if you ever hear anything that might be a good fit for me, I'd really appreciate if you keep me in mind.'
"And I'm eternally grateful that he did keep me in mind. A couple of months later, when Orianthi left Alice's band and they were looking for a guitar player to replace her – I think they weren't even necessarily looking for a girl, to hear Alice talk about it now – but I'm very grateful that Kip put my name forward.
"And I got to audition. My audition process was for Shep Gordon, who has managed Alice since the beginning of time, and for [producer] Bob Ezrin, which no pressure at all. So my audition process was through those two, and thankfully, they liked me. And it's been an amazing, amazing journey ever since."
When asked: "Well, you've had to deliver the goods, which is extremely important, that's what the bottom line that comes down to. What was it like in the audition? Was it tense? Were you relaxed? Was your mind spinning?", Nita answered:
"Actually, it was really unorthodox, and I guess they were really ahead of their time now with social distance and everything, but I did everything via video. I did it in the comfort of my house. They wanted to see videos of me playing through songs, and I've been in those call-audition situations many, many times growing up in L.A. and showing up with 30 or 40 other guitar players trying to go in and do these events. But this was in my house, so they had a few songs wanted to see me play, and I did the videos, and I pulled out every trick in the book. I was so proud of how it came out."
"I had the guitar, I was playing here, there, putting it behind my head and spinning around in my little studio room… So uncool, but I wanted to show that I was a performer, so I did it. And I sent it in and hated it. I got chewed out for the first time in a long time – 'This is not what Alice is all about. Can you give it another try?' And thankfully, they ended up giving me two separate tries, which I guess is pretty unheard of in that world.
"And each time, I guess my saving grace was that they were never trying to see if I could do it, they were trying to see if I could dial it back, and I have a hard time dialing it back at times. But thankfully, by the grace of God, they gave me a couple of chances to dial it back, the third time around, I dialed it back enough, and I got the gig. And that was the Motley Crue tour in 2014."
When she was interviewed by NI Rocks when she started playing with ALICE COOPER, she was asked "How would you describe working for him [ALICE COOPER]?", she replied:
"Alice is a true professional, true performer in every sense of the word. The man is a legend. I have never seen him have a bad show and that's the honest truth. Like you said, he always gives everything he's got. He leaves it all on stage. Even off stage, he's really amazing with his fans. He's definitely passionate about what he does and is really amazing with the fans; even if someone interrupts him when he is having a meal or is busy with his wife Sheryl who's on the tour with us, he always takes time to greet the fans, take pictures, answer questions and re-enact the "Wayne's World" scene where they say "we're not worthy" (laughs). He always takes time for everybody."