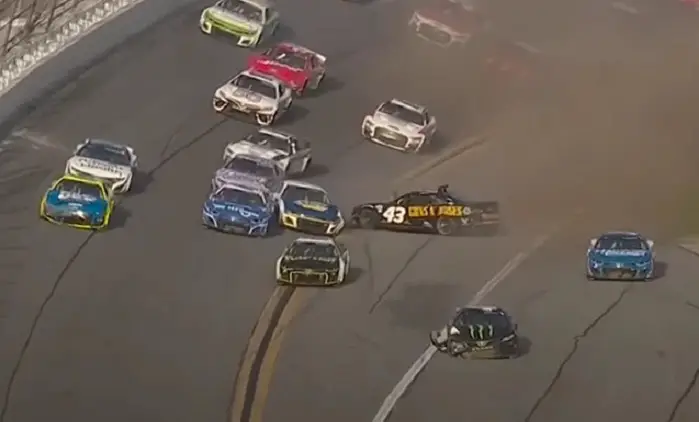 The automobile that was backed by GUNS N' ROSES and steered by Erik Jones in the Daytona 500 this past weekend had to exit the race after being involved in a collision with multiple cars.
NASCAR.com reported that Tyler Reddick was knocked by Kevin Harvick and spun out in the outside lane, which then triggered a chain reaction. When the incident happened, there were twelve laps remaining in Stage 2 and eighty-two laps remaining in the race. Chase Elliott, Ryan Blaney, Erik Jones and Daniel Suárez were all affected by the crash and Reddick, Jones, and Elliott were all unable to continue racing due to the extent of the damage.
"It looked like the 45 got turned around, but I couldn't see how it happened or how it had happened, but regardless, we spun off there on the bottom trying to get around and then got hit, left side hard enough to take out the left rear and just kind of end our day," Jones told NASCAR.com. "So, it is what it is. We went out, we were racing, we were doing all we could and, you know, we were just in the wrong spot at the wrong time. Wish we could've been a little ahead of him."
In the past, several rock acts have put their mark on NASCAR vehicles. Among them, KISS, THREE DOORS DOWN, GREEN DAY, NICKELBACK and DAVE MATTHEWS BAND are a few to be named.